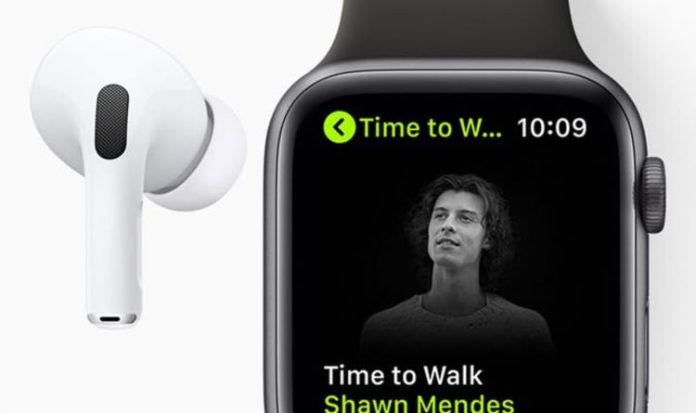 Apple Fitness+ launched late last year with it offering numerous ways to stay active both at home and in the gym. Now this £9.99 per month service is getting a new feature which is aimed at making your walks feel a little more exciting. Apple has announced the launch of something it's calling "Time to Walk" which brings a collection of stories from top celebs and sports stars straight to the Apple Watch.
Each episode, which are automatically downloaded to Apple Watch and played via your Bluetooth headphones, feature memories and moments from the star's life plus there are interactive photos and favourite music tracks.
Time to Walk is launching this week with four episodes which include stories from Country music star Dolly Parton, NBA player Draymond Green, Musician Shawn Mendes and Emmy Award winner Uzo Aduba.
Apple says a new episode will then be revealed every Monday through the end of April.
Like all Fitness+ exercises, you can also see all of your metrics on the Apple Watch including heart rate, distance and time although Apple says this is more of a mindfulness activity rather than a heart-pumping workout.
"Walking is the most popular physical activity in the world, and one of the healthiest things we can do for our bodies. A walk can often be more than just exercise: It can help clear the mind, solve a problem, or welcome a new perspective," said Jay Blahnik, Apple's senior director of Fitness Technologies.
"Even throughout this challenging period of time, one activity that has remained available to many is walking. With Time to Walk, we're bringing weekly original content to Apple Watch in Fitness+ that includes some of the most diverse, fascinating, and celebrated guests offering inspiration and entertainment to help our users keep moving through the power of walking."
The Time to Walk update now joins all the other sessions available as part of the Fitness+ subscription.
The service already features HIIT classes, Yoga sessions. Core exercises and Strength training which all work in tandem with the Apple Watch to keep track of your daily activity levels.
All of the classes can be viewed on an iPhone, iPad or Apple TV with metrics from the Apple Watch displayed on the screen in real-time.
Express.co.uk recently reviewed this service and you can read our full Fitness+ thoughts here.