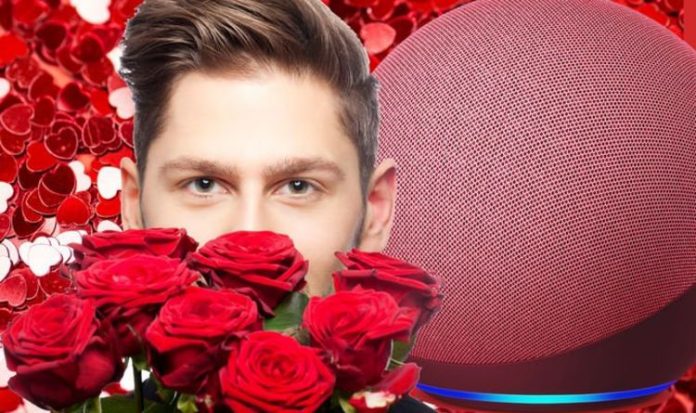 Will you be far apart from your loved ones on February 14 this year? If that's the case and you want to send them something to pop a smile on their face the Amazon Echo – with help from Alexa – has a handy new trick in its cabinet. Arriving just in time for Valentine's Day, these smart speakers will let you share a song of your choice with a fellow Alexa user to listen to.
So say you want to get another Echo device to play a romantic song for your partner on Cupid's celebratory day.
Maybe you want your partner to hear a bit of Marvin Gaye? Or some of Michael Buble's dulcet tones? Or sometimes, the old classics are in order such as Elvis Presley or The Beatles.
Whatever song you want to send to your beloved, you can do so via Amazon Echo.
And best of all, whoever you are sharing a song with won't need to have a subscription to a corresponding streaming service.
READ MORE: Alexa now knows about Jackie Weaver and Handforth council meeting
So if you're on Spotify, but your SO isn't, that won't be barrier if you want to share a track with them.
Alexa will try to find the requested track on any service that's available to the recipient.
If no match can be found then a station based on the artist's name and song title will be suggested.
The music sharing feature will work between Amazon Echo devices as well as the Alexa app.
If you want to try this feature out then you just need to enable Alexa Communications.
To activate the feature, you just need to listen to a song and then ask Alexa to "share this song" with a contact's name.
The recipient will then be able to listen to the song using their Echo device and can even send back a reaction.
In a post online announcing the new feature, Amazon said: "Everyone loves sharing music. The ability to help your friends discover new artists or songs, relive old memories with family, or just share a musical experience with those you love, is one of life's great pleasures—and the great news is that music sharing just got easier with Alexa.
"Now, customers can share songs with their Alexa contacts on their Echo devices. It's as easy as saying, 'Alexa share this song with Claire' while you're listening to the song you want to share and Alexa will send the song to your chosen contact."
The retail giant went onto add: "When someone shares a song with you, Alexa will notify you on your device and through your Alexa app. To listen to the song just ask Alexa for your messages and she will then ask you if you'd like to hear the song that has been shared with you. You can also tap the mobile push notification sent from your Alexa app to choose which device you'd like to listen to the song on."