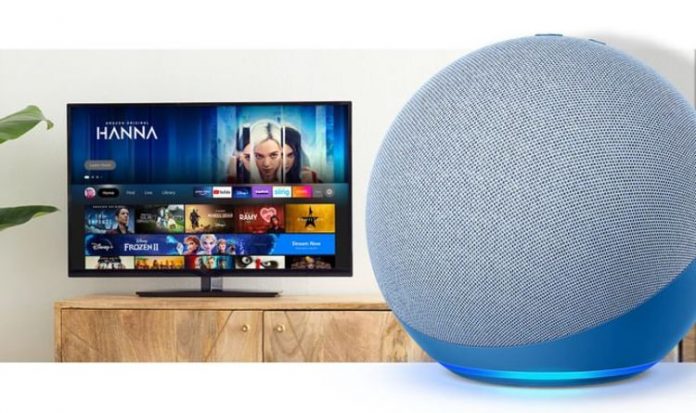 Amazon has announced a new upgrade to its talkative Alexa voice assistant that's sure to make life a little easier for those who binge boxsets and watch movies using an Amazon-built Fire TV streaming dongle, set-top box, or 4K TV. That's because Amazon has added a truckload of new features to Alexa, the brains behind smart speakers like the Amazon Echo, which will let users control their telly with a few new voice commands.
The amount of control that Alexa will have over your telly depends on which Fire TV device you've got plugged in. If you've got an Amazon Fire TV Cube, you're already able to use Alexa to turn on the TV, adjust the volume and launch your favourite streaming apps. If you've got a Fire TV Edition Smart TV – that's a telly with the Fire TV software built-in – you can also use Alexa to power your TV on and off, control volume, and even switch inputs by asking the smart assistant to switch from Netflix to your PlayStation, for example.
For those with an Amazon Fire TV Stick plugged into the back of their telly, the latest update brings a useful new "Show Me" command. Until now, Alexa could be used to play specific shows, "Alexa, Play The Boys On Fire TV", or pause playback if you need to dash to answer the doorbell and can't find the remote, "Alexa, Pause Fire TV". With the addition of "Show Me," Amazon Echo owners can get answers to their questions on the big screen too.
So, while you might usually ask Alexa for the forecast for the next few days, Amazon Echo owners can now say "Alexa, Show Me The Weather This Weekend" to get a detailed weather report on the big screen. The information shown on your telly will be similar to what you may have seen on Alexa-enabled devices with touchscreens, like the Echo Show series. If you have a compatible smart home system, like the Amazon-owned Ring Video Doorbell, you can get a live video feed on your TV too. Just say "Alexa, Show Me My Front Door".
MORE LIKE THIS
Alexa has a new ability, but iPhone owners get the most benefit
Traffic conditions, "Alexa, Show Me The Traffic To Downtown Chicago", are also supported as well as calendars, "Alexa, Show Me My Calendar", Amazon says. As always, we'd expect the number of integrations to increase as time goes on.
You'll also be able to navigate around the Fire TV Stick's on-screen menus with your voice too – "Alexa, Scroll Down" – which is something that's only been possible by holding the microphone button on the Fire TV Alexa Voice Remotes until now. You can jump to important places like, "Alexa, Show Me My Watchlist", or head back to home screen by saying, "Alexa, Go Home." Of course, since you'd have to be holding the remote at that point, this functionality was never as convenient as barking an order over to the Amazon Echo in the corner of your room. With the latest update, that's now a reality – and you won't ever have to fish down the back of the sofa to retrieve your remote during a boxset marathon.
READ NEXT
Blockbuster Fire TV update brings 85 channels and 750 new boxsets
Amazon has done a tremendous amount of work to ensure pairing is as painless as possible. Pairing an Amazon Echo with a Fire TV should take place the first time you use one of the new "Show Me" commands.
So, when asking Alexa to play a title, like "Alexa, Play Jack Ryan", it will ask you to confirm that you want to use your Alexa device to control your Fire TV.
After that, you can ask Alexa to open an app or search for content to pair your devices as well. Automatic pairing is available on all Echo devices except Echo Show and Echo Spot. While owners of these devices can use the new features, you'll need to dig into the settings menu in the Alexa app on your smartphone to get that to work.
"These fun features will be rolling out to your Fire TV devices in the coming weeks," Amazon Marketing Manager Amy Shotwell confirmed in a blog post about the latest update.