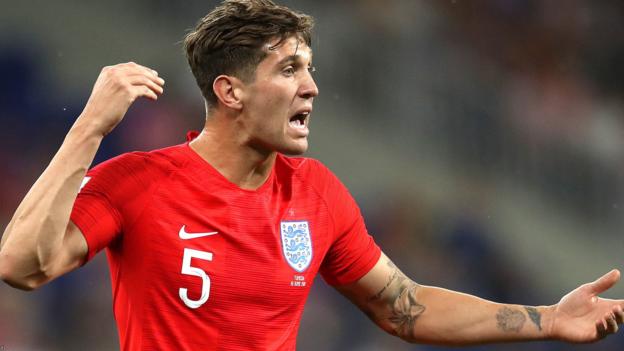 England defender John Stones says his Manchester City captain and Belgium World Cup rival Vincent Kompany has become his mentor with one-on-one advice sessions.
Stones, 24, could find himself in direct confrontation with fellow centre-back Kompany when England face Belgium in their final Group G game on 28 June.
But he is already the beneficiary of the 32-year-old's wisdom and experience as he prepares to face Panama in Nizhny Novgorod on Sunday.
Stones said: "He is a class act. I remember Vinnie was injured in my first season at Manchester City, and this season, but he got some clips he wanted to help me out with.
"We got the clips, sat down together and he wanted to give his advice and opinions on these actions.
"For someone to do that and try to help me as a young player says a lot about the person. I look up to him as a captain and as a friend because of the things he has done for me in the last two years.
"We could have just gone about out day normally, said hello, gone for dinner at the training ground, but he wanted to show these clips. We sat down and did a one-on-one.
"We always talk about games and how we can improve and what he thinks in those situations because he has done it so many times.
"He's a born winner. I want to be a winner and learn that from him. The more I play and train with him the more it should rub off."
'World-class' Walker hurt by penalty decision
Stones revealed how highly he rates City and England team-mate Kyle Walker, saying he has now entered the "world-class" bracket.
He said Walker was "really upset" by the penalty awarded against him in England's opening group win over Tunisia.
Stones said: "That hurt him but he showed character to get on with the game.
"He played a few great passes and defensively he's the best for me. I can't speak highly enough about him. I love playing with him.
"He's world-class as a player, as a right-back but as a player in general. I just think what he brings, not only to the team but me personally, has been a massive, massive help.
"On and off the pitch he's just so calm and he's always got the right advice for whatever situation we're in."