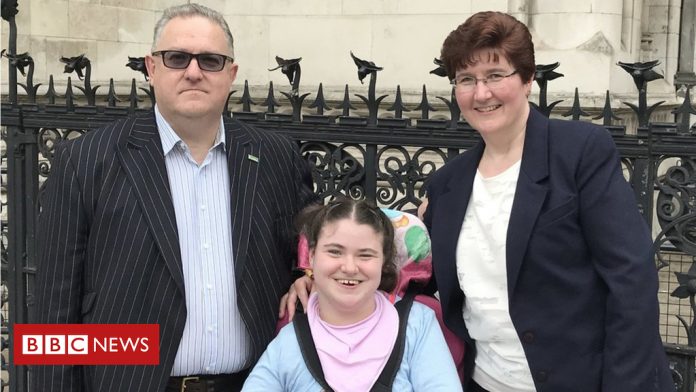 [ad_1]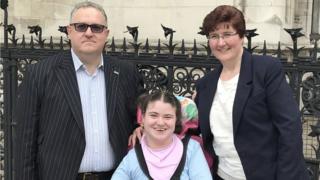 A teenager who suffered a brain injury at birth has told the BBC's Victoria Derbyshire programme she is "angry" that it was not avoided.
Becky Tyler, from Crawley, who has severe quadriplegic cerebral palsy, was born starved of oxygen at East Surrey Hospital in 2002.
She is set to receive a multi-million pound settlement.
Surrey and Sussex NHS Trust said it was "saddened and sorry" the conditions of Becky's delivery were "difficult".
The family's lawyer said the trust acknowledged mistakes were made during the birth.
'No-one seemed prepared'
Fiona Tyler, Becky's mother, said she "went into shock" when her daughter was born in need of resuscitation, with the umbilical cord wrapped three times around her neck.
"No-one seemed prepared, not the midwives nor seemingly anyone in that room," she added.
"They were working on her for half an hour before she went to the intensive care unit".
Becky was in hospital for two weeks before being discharged.
"We were told that hopefully there would be no lasting damage and to go home and enjoy our baby," Ms Tyler said.
It was not until Becky was seven months old that she was eventually diagnosed with cerebral palsy – during which time Ms Tyler said she was "made to feel it was my fault" that her daughter was sickly.
"We were led to believe [a newborn developing cerebral palsy] was one of those things that happens sometimes."
'I wanted answers'
Becky is now set to receive a multi-million pound settlement.
Her lawyers said the NHS trust has acknowledged that mistakes during her delivery led to Becky being deprived of oxygen.
The case came about after Becky asked her mother five years ago how she developed cerebral palsy.
Ms Tyler said she was originally reluctant to investigate, but took her daughter for an MRI scan – which she said showed the extent of the damage caused to the brain.
Becky, who communicates using advanced eye gaze technology, told the Victoria Derbyshire programme she was "happy that we've settled the case and most of all I'm excited about the future".
But she was "disgusted that the hospital tried to blame my mum", she said.
Becky added: "I would say to parents that don't know how their child got cerebral palsy that they can get it investigated.
"I wanted to know the answers."
Michael Wilson, chief executive of Surrey and Sussex Healthcare NHS Trust, said: "We are saddened and sorry that the conditions and monitoring of Becky's delivery were difficult and we sincerely regret the impact this has had.
"We are pleased that the court has approved the resolution of liability and that we can now work with Becky and her family to agree a settlement to ensure that Becky's lifetime needs are met."
Watch the BBC's Victoria Derbyshire programme on weekdays between 09:00 and 11:00 on BBC Two and the BBC News Channel.
[ad_2]