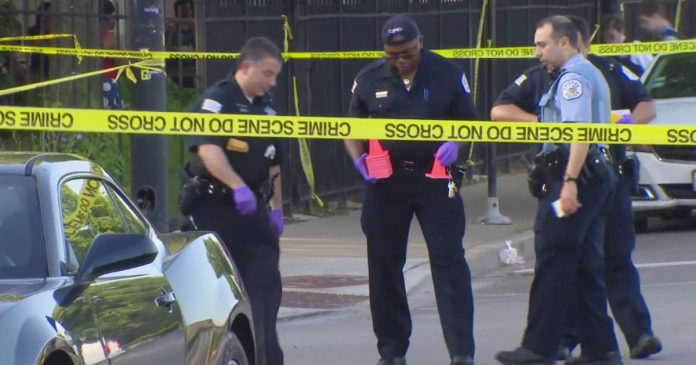 [ad_1]

CHICAGO — A 17-year-old boy died early Tuesday, nearly a full day after he was shot in the head in Chicago's Little Italy neighborhood. Paramedics had covered him with a sheet as they treated others wounded during the same shooting, CBS Chicago reports.
Erin Carey, of the Austin neighborhood, was among six people shot around 4:45 a.m. Monday at the ABLA Brooks Homes public housing complex. A 22-year-old woman, Shalonza McToy, was pronounced dead at the scene. Four others were wounded in the shooting but their injuries were considered non-life-threatening.
Carey was shot several times in the head. Paramedics initially presumed he had died and covered him with a sheet, then moved on to treat another shooting victim, First Deputy Police Supt. Anthony Riccio said. He was covered by the sheet for at least an hour, the Chicago Tribune reports.
Later, police officers noticed movement under the sheet.
"Officers who were present notified the paramedics this man is still alive, and treatment began on him as well," Riccio said.
Paramedics transported Carey to Stroger Hospital in critical condition. He was pronounced dead at 1:14 a.m. Tuesday, according to the Cook County Medical Examiner's Office.
Riccio told reporters none of the surviving victims were cooperating with police, but evidence at the scene suggested there was an exchange of gunfire among several people. Riccio said there's ongoing gang conflict in the area, and the shooting appeared to stem from some sort of dispute.
Police said a weapon, possibly a MAC-10 submachine gun, was recovered near Carey's body. Detectives were also reviewing video from several cameras in the area.
© 2018 CBS Interactive Inc. All Rights Reserved.
[ad_2]