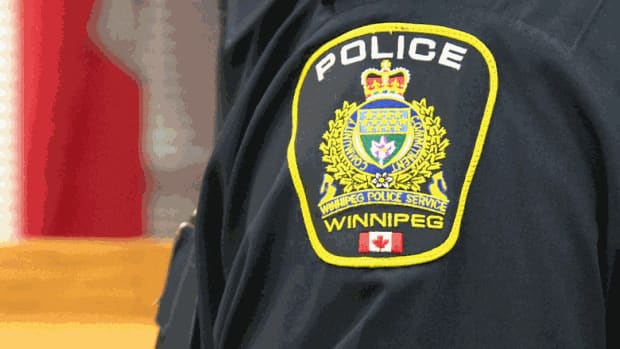 [ad_1]

Winnipeg police have launched an investigation after video circulated on social media last week of an officer admitting to punching his own dog while mocking two women who reported a case of alleged dog abuse.
Tensions were high when North End residents Susan Mulvaney and Vivian Muska visited the District 3 station at 260 Hartford Ave. to lodge a complaint against their neighbour for allegedly punching his dog in the face.
"This is a Winnipeg Police Service officer in uniform, on duty, condoning a criminal act," Mulvaney wrote in a Facebook post. The video has been viewed tens of thousands of times.
"I've punched my dog," the officer said in the video.
"Sometimes you have to discipline an animal."
The video posted to Facebook by Mulvaney shows the officer leaning back in his chair, throwing up his hands and shaking his head in apparent disbelief while the two women behind the camera rebuke him.
"So, you're going to dictate how everybody disciplines their animals?" the officer asked of the complainants.
"Oh, so we can't discipline anybody now. Heaven forbid."
Mulvaney lodged a complaint against the officer for defending animal abuse.
It all started in the early hours on June 12, Mulvaney said. After fixing morning tea and coffee at approximately 6:50 a.m., Mulvaney said she lifted her living room blinds to witness an appalling scene.
Mulvaney said she saw her neighbour in the process of yelling at and punching a dog in the face with a closed fist. The two witnesses, Mulvaney and Muska, said they observed four blows in total.
Case closed
Mulvaney said she felt that police were not taking her concerns seriously enough. The North End community member said she tried calling local police to ask about the status of the investigation. After not hearing back for a few days, she went down to the nearby station, where she said an officer told her that attending officers deemed the dog in "good health" and subsequently closed the case without requesting a statement from the two witnesses.
"Just because it's not dead doesn't mean a crime didn't occur," Mulvaney said about the distressed dog who was the victim of alleged cruelty and abuse.
"Even if it looks healthy, it needs to be examined."
Animal cruelty, including injuring or endangering animals, is an indictable, punishable offence under Canada's Criminal Code. Offenders may be liable to fines or imprisonment.
Changes to the Criminal Code in 2008 enacted a higher maximum penalty for animal cruelty offences.
"Horrified. Absolutely horrified," Mulvaney said about the harsh, violent treatment she said she saw. The witness said she feels like she keeps reliving the moment "over and over" as the image repeatedly flashes across her mind.
Mulvaney wants to see the officer fired.
Furthermore, she urges city authorities to properly examine the dogs given her concerns about long-term physical and psychological impacts of abuse.
Just by sheer chance, the officer is on leave that had already been booked.– Winnipeg Police Service Const. Rob Carver
A City of Winnipeg spokesperson said the Winnipeg Humane Society will head an investigation into the alleged abuse.
Winnipeg Police Services confirmed they will investigate the involved officer. Const. Rob Carver said the involved officer is already on a pre-scheduled leave.
"Just by sheer chance, the officer is on leave that had already been booked."
The Winnipeg Police Association, the union representing city officers, could not be reached for comment.
[ad_2]