[ad_1]

The weekend may be over, but the heat wave continues today.
Environment Canada still has its heat warning in effect for Windsor, Ont. — which has broken a hottest temperature record for the second day in a row.
As of Monday afternoon, the temperature hit 34.9 C, almost half a degree higher than the record set in 2007 of 34.5 C.
On Sunday, Windsor broke the record for hottest temperature for June 17. It got up to 35.6 C — a full degree and a half hotter than the mark set in 1994.
Meteorologist Ria Alsen said it will be a few degrees cooler today.
"Not quite as warm as yesterday, so we're forecasting a high of about 31 degrees," she said.
"The reason is we'll probably start to get some cloud cover come in and a little bit less sun, a little lower temperatures, but still potentially dangerous, so the heat warning will remain in effect today until the temperatures drop later this evening."
Sarnia also set a new record yesterday, getting to 34.2 C. That broke the mark from 2014 by a degree and a half.
Cold front, rain on the way
A cold front is expected to move into the region tonight.
"Once the cold front goes through, the temperatures will cool off, so tonight will be a little more bearable," said Alsen.
"For the remainder of the week, it looks like we'll be more like seasonal temperatures and for the foreseeable future, so if you like the heat and humidity, today is your day, and if not, well, starting tomorrow, you get the rest of the week."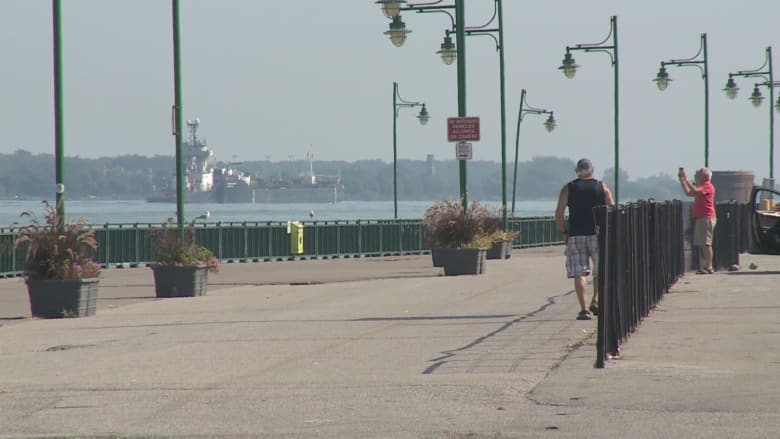 The City of Windsor hit record-breaking temperatures over the weekend. (Melissa Nakhavoly/CBC)
Showers are forecast this afternoon and overnight, with the possibility of a thunderstorm. Alsen said rain is almost a sure-thing.
"Maybe not significant, huge amounts, but enough to give everybody a bit of a good watering later this afternoon," she said.
Only 3 mm of rainfall has been recorded at the Windsor airport so far in June.
More from CBC Windsor:
[ad_2]