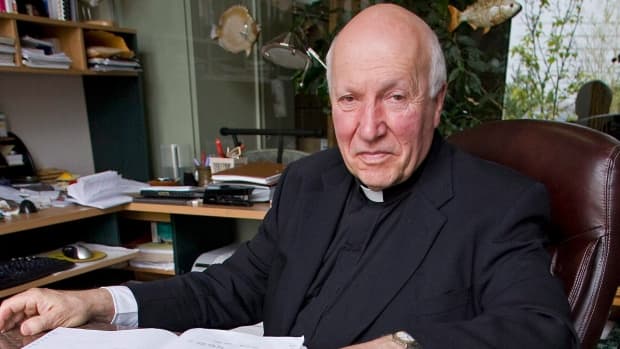 [ad_1]

Serious concerns about Father Lucien Larre's competence were behind the decision to bar him from practice as a psychologist, but the Catholic priest had another theory for what happened, according to court documents filed a decade ago.
The issue, Larre alleged, was his role in extradition proceedings for a high-profile Nazi.
"My problem is not professional or personal. The problem is politics. I did something to upset the Jewish people. I know it sounds horrible but that's exactly what happened," the priest told a psychologist who evaluated him for the College of Psychologists of B.C.
The college's reasons for investigating Larre haven't been made public before now, but they're laid bare in that 2006 evaluation, filed as an exhibit in B.C. Supreme Court when the priest appealed the suspension of his registration.
Though it's been more than 10 years since Larre lost his court case and resigned, his name was back in the news again this month when the college posted a new public safety notice, reminding people that Larre is not a registered psychologist. The college told CBC that information had been posted online that might mislead the public into believing he still is.
'Dramatically below the standard of care'
At the heart of the college's case against Larre were multiple complaints, from colleagues and parents, about his treatment of children, according to affidavits filed in court.
Those complaints included allegations of making diagnoses without sufficient evidence, suggesting a couple's parenting style was a factor in their child's suspected schizophrenia, and recommending a brain-damaged girl undergo an unproven treatment at a hyperbaric oxygen clinic that Larre was associated with, the documents show.
The American psychologist who interviewed Larre for 5.75 hours, wrote in her evaluation that "his work falls so dramatically below the standard of care" that he should not be allowed to practise anymore.
"His lack of judgment and the personal motivations that justify his transgressions of professional standards suggest that he is at high risk to continue the behaviours that have generated the previous complaints," she wrote.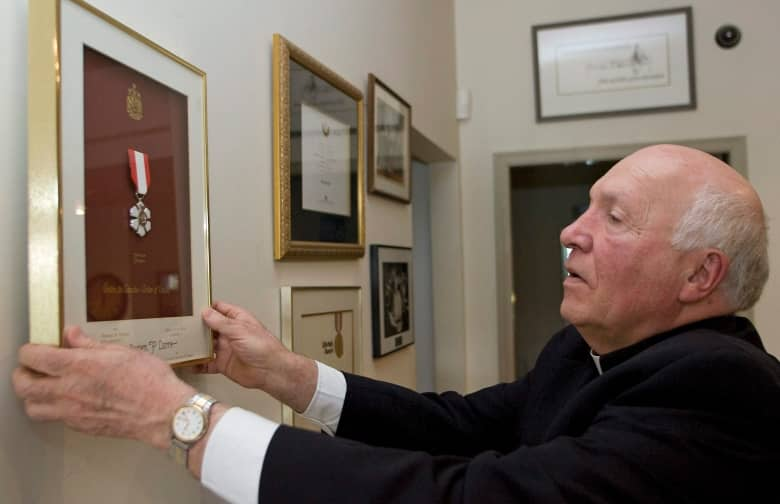 Father Lucien Larre was a recipient of the Order of Canada, but he returned it in protest in 2008, after the honour was extended to famed abortion crusader Dr. Henry Morgenthaler. (CANADIAN PRESS/Richard Lam)
The court documents do not suggest that Larre's involvement in the Nazi extradition hearings was part of the college's investigation.
Nonetheless, the psychological evaluation shows that Larre brought up the subject at least twice, claiming that was "where I really ran into trouble with the college."
According to the evaluation, Larre insisted that the convicted criminal was actually innocent.  
"Everyone was afraid to do an assessment of him. They knew there would be trouble with the college. I'm not anti-Jewish. My very best friends were Jewish," Larre told the American psychologist.
Larre performed a psychological assessment for the Nazi, and testified that the man was not mentally competent to stand trial — contradicting the evidence of a physician, a psychiatrist, a neuropsychologist and a neurologist.
Larre said "it's been nothing but hell" since he took on that case, according to the evaluation.
In turn, the American psychologist wrote that Larre displayed a "lack of insight into his own difficulties and projection of blame outside of himself."
Larre has not responded to multiple emails or phone calls requesting comment.
A psychologist hired by Larre's legal team filed a competing report with the court in 2007, alleging the college's evaluation was "highly prejudicial" and "rife with errors of fact, procedure and conclusions."
That second psychologist also claimed Larre was misquoted several times in the college's evaluation — but his list of alleged misquotes did not include Larre's statements about Jewish people.
A troubled past
Larre is originally from Saskatchewan, where he founded an organization that provided homes for troubled teenagers.
In 1992, he was convicted of abusing two of those children. A Regina jury found him guilty of assaulting one girl and administering a noxious substance to another but acquitted him on nine other charges.
Larre's criminal record was erased in 1997 after the National Parole Board granted him a pardon. He began practising psychology in B.C. in 1998.
Following his convictions, Larre was barred from ministering in the Archdiocese of Regina, which covers southern Saskatchewan.
There are no such restrictions on him in the Vancouver area. He currently lives in Coquitlam, where he conducts "training workshops for parents and teachers," according to his website.
[ad_2]