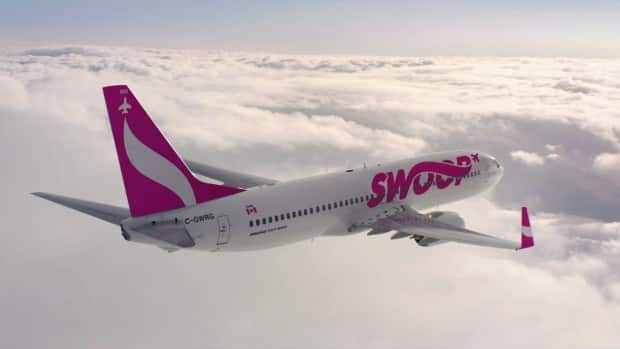 [ad_1]

Competition is heating up for Canada's most price-sensitive travellers as WestJet Airlines gears up to launch the country's second ultra-low cost airline Wednesday.
Swoop, an offshoot of WestJet Airlines, will make its maiden flight on its pink and white aircraft before the sun rises in Hamilton, Ont. on a trip to Abbotsford, B.C.
"From my perspective coming into this fresh — I've been in Canada four months now — I personally believe there's a huge opportunity in Canada," said Swoop president Steven Greenway.
Greenway is an Australian native who has worked in executive positions at airlines including Japanese low-cost carrier Peach, Virgin Blue, Virgin Atlantic and Qantas.
Swoop marks his sixth airline startup.
By discounting travel, Swoop, Flair Airlines and others are trying to repatriate the more than five million Canadians who cross the border to catch flights from airports in Buffalo and Plattsburgh, N.Y., and Birmingham, Wash.
"From our perspective there's the opportunity to fill a gap, there's an opportunity to stimulate demand, there's an opportunity to welcome Canadians back from crossing the border. We believe there's a significant enough market to be able to thrive," Greenway said in an interview.
He expects competition will increase significantly over the next 12 months as Canada Jetlines gears up to join Swoop and Flair in offering deeply discounted fares along with charges for everything from a onboard drink to carry-on and checked baggage.
Flair welcomed the extra competition.
"We think that having more people in the space helps promote the fact the space exists and will work to each other's advantage," executive chairman David Tait said in an interview.
"I don't think Canada's big enough for half a dozen players in this space, but there's certainly plenty of room for two and maybe three."
Meanwhile, Tait said Flair plans to move its headquarters to Edmonton from Kelowna, B.C., over the coming months to help promote its growth.
"Kelowna was a fine base for a charter operator but it didn't really give us the scope, the potential we need as we're growing."
Swoop is entering an area of the airline business that doesn't have a stellar history of success in Canada: Jetsgo, Air Canada's Tango, Canada 3000 and Roots Air have all floundered in the past.
Canada is the only G7 country without a true ultra low-cost carrier (ULCC) and the model has been successful in Europe, Australia and the United States, said transportation analyst Chris Murray of AltaCorp Capital.
"I don't think we've ever seen a true ULCC model in the Canadian marketplace before so I think we're in somewhat uncharted territory," he said.
"I think there's also frankly some opportunities if they do it well to be successful with it."
Murray estimates the Canadian ultra low-cost market can handle 10 million passengers per year, enough to support up to 50 aircraft. The service is particularly suited to leisure flights to Las Vegas, Arizona and Florida, he added.
Swoop says fares should be 30 to 40 per cent lower than a national carrier.
The key will be to keep costs down from lower labour costs, cramming 189 seats into Boeing 737-800s, and stimulating demand from people who don't normally fly because of the high cost.
The carrier, however, has already had something of a bumpy takeoff.
WestJet's launch of Swoop had been a source of labour strife between the company and pilots, who were on the brink of a strike last month before reaching an 11th-hour deal.
Earlier this year, the union won a Canada Industrial Relations Board challenge to the company's proposed policy to offer pilots a two-year leave of absence if they go to fly for Swoop.
A federal arbitrator recently ruled that WestJet's unionized pilots will also fly Swoop, which means the airline can no longer outsource Swoop flying, a major disagreement in recent negotiations.
Swoop will recognize the union as the exclusive bargaining agent for all Swoop pilots, who will be on the airline's one seniority list and fly aircraft at Swoop terms and conditions.
Initial one-way flights start at $49 tax included from Abbotsford to Winnipeg, $129 between Hamilton and Abbotsford and $99 between Hamilton and Halifax.
The fares don't include a range of fees, including carry-on luggage and checked bags starting at $26.25, seat selection start at $5, and $15 to contact the call centre if the service can be carried out on the website.
No pets aside from guide dogs are allowed on board and any credits are only valid for 90 days. No loyalty points will be awarded.
Swoop is starting with two planes, with plans to roll out six by year-end and 10 in 2019.
Instead of flying from Toronto Pearson International, flights will fly out of Hamilton's lower-cost airport. Other initial cities are Winnipeg, Edmonton, Halifax and Abbotsford.
Additional destinations will be added, including international flights likely by the end of 2018, said Greenway. Flair plans to fly to Orlando and Palm Springs, Calif., next winter.
While there is a real concern that passengers could feel being "nickled and dimed" by a series of ancillary fees, experience in Europe over the past 20 years suggests passengers ultimately focus on the fares, said Greenway.
"It is an education process and I think people will adapt over time."
[ad_2]