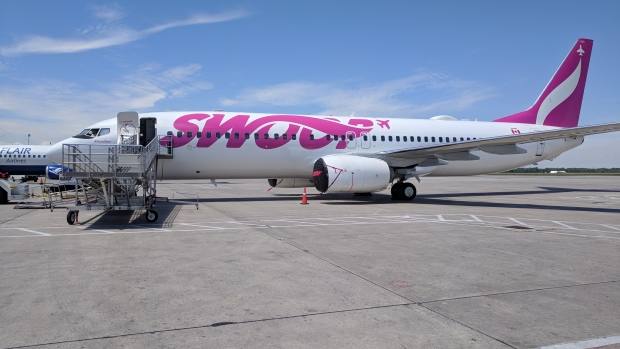 [ad_1]

Canada's low-cost air travel market will get a bit more crowded tomorrow as WestJet's discount line, Swoop, takes to the skies.
A pink and white Boeing 737 with 189 seats on board is scheduled to take off from Hamilton in the morning and land in Abbotsford, B.C., officially marking the maiden voyage of Canada's newest ultra-low-cost carrier (ULCC).
The airline aims to make money for its owners by offering no-frills flying between secondary Canadian airports like Halifax, Edmonton, Winnipeg and the two cities listed above.
The airports that Swoop will serve initially tend to have much lower terminal and landing fees than busy airports in major hubs like Toronto and Vancouver.
The planes will also stuff in far more seats than standard WestJet flights. The layout of their two planes will accommodate 189 paying customers at full capacity, whereas some WestJet flights on similar-sized planes top out at just more than 150 seats.
The venture is focused on the millions of Canadians who WestJet says typically travel to smaller U.S. cities near the border to fly with American ULCCs such as Spirit, Frontier and Allegiant, which offer pan-continental travel at rock-bottom prices, often for well under $50 a ticket.
Just don't expect any perks like Wi-Fi, free food, an extra checked bag or copious amounts of leg room. 
They are not loyal. They don't care about points. The second the ticket is $1 lower somewhere else, [you] have lost them.– Robert Kokonis, the president of travel consultancy AirTrav Inc.
Swoop and other ULCC's "cater to a whole new breed of traveller," says Robert Kokonis, the president of travel consultancy AirTrav Inc.
Conventional airlines have made much of their money in recent years by catering to business travellers who can and will pay extra for perks and loyalty reward points.
With Swoop, WestJet is targeting the opposite end of the spectrum: people who don't fly as much as they'd like because of the cost.
"They are not loyal. They don't care about points," Kokonis said. "The second the ticket is $1 lower somewhere else, [you] have lost them."
Swoop wants to win these travellers over with a base ticket price that's as cheap as possible. Pricing starts as low as $49 for a one-way ticket, with added fees for perks like on-board entertainment and snacks.
Rivals
But Swoop isn't alone in the space. Flair Airlines operates a similar business model between secondary Canadian markets, and after some uncertainty, it plans to expand soon. Another entrant, Jetlines, was originally planning to launch this month, but has delayed those plans to work out some details. The airline says it's still on track to take flight sometime next year.
Air Canada-owned Rouge is not a ULCC per se but targets a similar segment of the market, generating profits for Air Canada by flying fuller planes with fewer perks at a lower cost than regular Air Canada flights.
Other companies have also shaken up Canada's airspace, but not by flying for cheap between Canadian cities. Instead, they offer Canadian travellers rock-bottom fares to Europe. Wow Air launched in 2016 with service to Europe via Iceland, and starting next month, Latvian carrier Primera Air plans to offer seven flights a week between Toronto and Montreal and London and Paris.
And later this year, Norwegian Air will begin to offer flights between Canada, Europe and the French Caribbean.
Ambarish Chandra, an economics professor at the University of Toronto who studies the industry, says the ULCC model is quite well established elsewhere, but is still relatively untested in Canada.
"It can make a fair bit of business sense to do it this way," he said, "because [WestJet] can do it in a targeted way for certain routes for certain customers."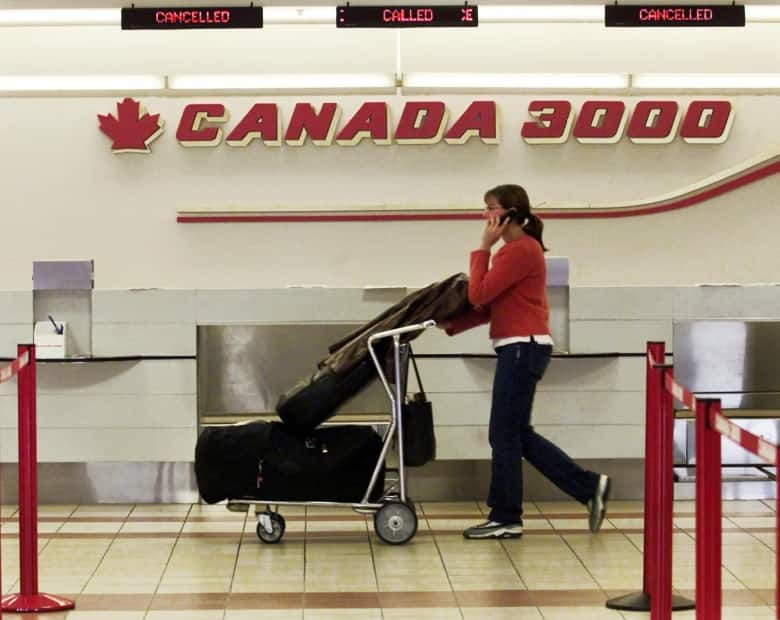 Canada 3000 stranded passengers and cost thousands of jobs when it ceased operations in 2001. (Andrew Vaughan/Canadian Press)
That's not to say it's a sure thing. The history of Canadian aviation is littered with failed ventures, including Canada 3000, which went under in 2001, and Jetsgo, which stranded passengers when it went bust in 2005.
Swoop plans to launch with just two planes before expanding. That approach has proven to be a problem for some independent startups in the past, Kokonis says. "If one airline goes offline [for maintenance] you've got a big problem on your hands."
While that may not be a big risk for a company with the scale of WestJet, there will likely be plenty of challenges, Chandra says.
"North American airlines have done this in the past and then rolled it back because it turns out to be more complicated."
[ad_2]