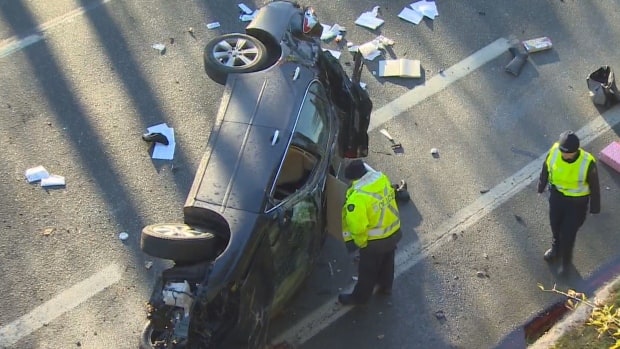 [ad_1]

If you've never held a gun or brandished a knife, it's hard to imagine the thought process behind an allegation of murder or aggravated assault.
Not so for vehicular offences.
In a country where most adults have a driver's permit, we're all experts on the way other people handle themselves behind the wheel. It's a licence to second-guess.
It also explains the visceral reaction most people have to the startling video of the collision that killed Dr. Alphonsus Hui. Who can't imagine being in Hui's position? Or that of the driver whose dashcam recorded the tragedy?
And who hasn't formed an opinion about the acquittal of the man charged criminally in relation to Hui's death?
WARNING: Graphic video — Dash-cam video shows the moment of impact:
But Victoria-based driving school owner Steve Wallace says the public shouldn't focus its outrage on the provincial court judge who acquitted Ken Chung.
"There's a solution to this problem. It's simple. The judge is grappling with a range of penalties that have been dictated by the attorney general and by former cases," says Wallace.
"There has to be a change in the attitude. But there has to be a change in the law."
'Undisputedly dangerous conduct'
Chung had no comment about the case when reached by CBC on Tuesday. 
The Crown is appealing Judge Gregory Rideout's finding that the 36-year-old luxury car salesman was not guilty of dangerous driving causing Hui's death in November 2015.
Chung was travelling at 119 km/h on entering the intersection where Hui was turning left.
He was slowing down at the time, having accelerated to 139 km/h a block earlier. The speed limit was 50 km/h.
Dr. Alphonsus Hui was killed in a car crash in Vancouver on Nov. 14, 2015, when he was hit by a speeding vehicle driven by Ken Chung. (Supplied by Monique Hui)
The case has cast a spotlight on the high legal threshold required to sustain a dangerous driving conviction. The bar is a "marked departure" from the standard of reasonable care as opposed to a momentary lapse
Similar tragedies have seen acquittals of drivers who have nodded off at the wheel.
The Crown's notice of appeal claims Rideout applied an "incorrect legal standard" for determining criminal intent by failing to assess Chung's "undisputedly dangerous conduct against the standard of a reasonably prudent driver."
'Risk-takers'
In releasing the video, Rideout noted the powerful vehicles which are a regular sight on roads in Vancouver, a city with the highest per capita number of luxury vehicles in North America.
Wallace said B.C. has a notoriously tough driving exam, but most new drivers are not tested on highways, at speeds above residential limits.
He believes new drivers should be limited to cars under a certain engine size.
He also thinks the law needs to reflect society's disgust with people who drive with disregard to the safety of other road users.
"This should be Monopoly," Wallace says. "Do not pass Go. Go directly to jail."
Dr. Alphonsus Hui, far right, poses for a family photo with daughter Monique, far left, wife Josephine and son Creighton. (Supplied by Monique Hui)
Transport Canada released a nationwide survey in 2007 suggesting Canadians had an "elastic" approach to speeding.
The random sampling of 2002 Canadians is considered accurate to within 2.2 percentage points, 19 times out of 20.
Researchers claimed that drivers they dubbed "risk takers" make up 15 per cent of the population. They're over-represented by men and urban residents under the age of 25.
"This group is most likely to indicate they speed because they like the feeling of driving fast, and that they are angered by other drivers when they drive," the Transport Canada report said.
"This group is most likely to assign high importance to the performance, power, and speed of a vehicle when deciding what type of car to buy and strongly agree that they would buy a higher performance car if they could afford it."
'Even good drivers …'
In setting the precedent for a conviction for dangerous driving causing death in 2008, the Supreme Court of Canada didn't intend to bind the hands of lower court judges.
But their thinking was informed by the fact millions of Canadians hold drivers licences.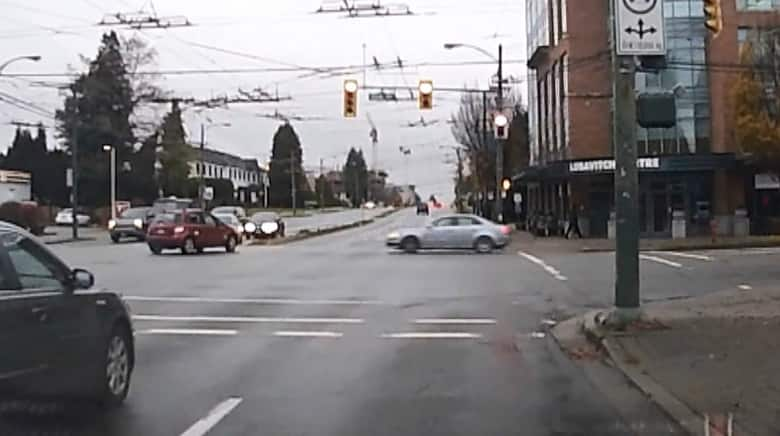 A still from a dashcam video which recorded a November 2015 collision in which an Audi driven by Ken Chung struck Dr. Alphonus Hui's vehicle, killing him. (BC Provincial Court)
"Even good drivers are occasionally subject to momentary lapses of attention," the SCOC ruling reads.
"If every departure from the civil norm is to be criminalized, regardless of the degree, we risk casting the net too widely and branding as criminals persons who are in reality not morally blameworthy."
Hui's daughter wants her father's death to spark a change in speeding laws. She started a petition with that goal in mind.
Monique Hui was incensed to learn Chung was charged with going 108 km/h in a 50 km/h zone two years after the fatal collision.
"We are concerned the government, our courts and ICBC are not doing enough to keep drivers who repeatedly speed excessively, off our streets," her petition reads.
The Transport Canada survey suggested a few fixes, including electronic roadside signs displaying speed and accompanying penalty and in-vehicle warning devices triggered by speeds above 110 km/h.
The report said all respondents had thoughts on what might be most effective.
And that included the risk takers: "Interestingly, this group also tends to agree with idea that police do not enforce the speed limit enough."
[ad_2]