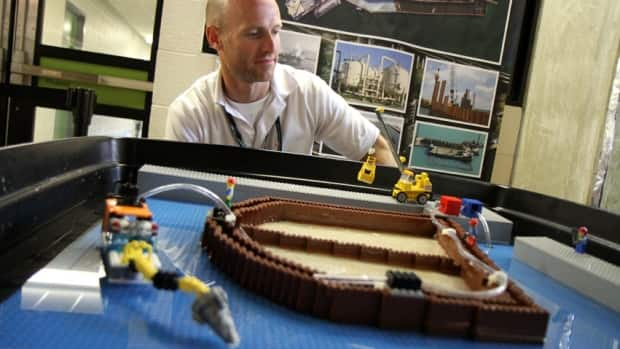 [ad_1]

Crews will start vacuuming toxic coal tar from Hamilton Harbour next month as the next phase begins in the cleanup of the notorious Randle Reef.
The dredging phase of the $139 million project starts in early July, said Matt Graham, a sediment remediation specialist at the Canada Centre for Inland Waters.
That means a custom-made industrial-scale vacuum will begin to suck up contaminated sediments from what is the biggest toxic coal tar spill this side of the Great Lakes. The coal tar — underwater industrial waste that's a byproduct of decades of industrial activity — will be deposited into a large steel box built at the site that will be capped and turned into a pier.
"It's an underwater vacuum cleaner," said Graham, who had a Lego version of the project at the centre's open house in Burlington Wednesday.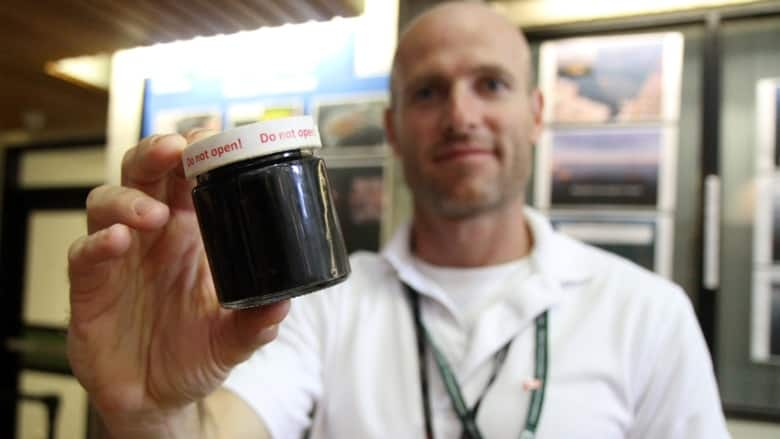 Matt Graham from the Canada Centre for Inland Waters holds a jar of coal-tar sediment from Randle Reef. (Samantha Craggs/CBC)
The water that comes with the sediments it will be treated as the sediments settle, Graham said. The steel container has a lifespan of 200 years.
Planning for this — like the entire project — is going well, Graham said.
"It's on schedule and on budget, which are the two most important criteria."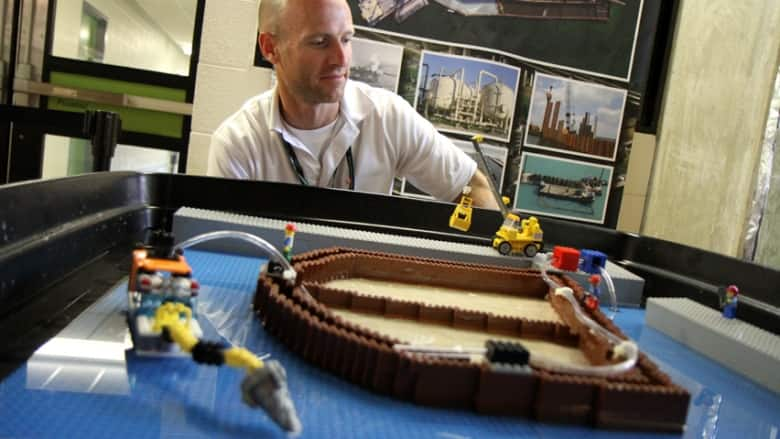 Dredging will start on Randle Reef next month, says Matt Graham at the Canada Centre for Inland Waters. He had a Lego version of the project at a centre open house Wednesday. (Samantha Craggs/CBC)
Randle Reef is a mass of underwater toxic waste just off of Stelco property. It covers about 60 hectares, or 120 football fields. The container has been built over the most heavily contaminated zone and surrounding contamination is what will be sucked up and deposited into it.
The city and environmental advocates have long wanted it cleaned up, but it took decades to secure money and agree on a cleanup plan.
The federal and provincial governments are contributing $139 million to the cleanup, as well as Hamilton, Burlington, the Hamilton Port Authority and Stelco.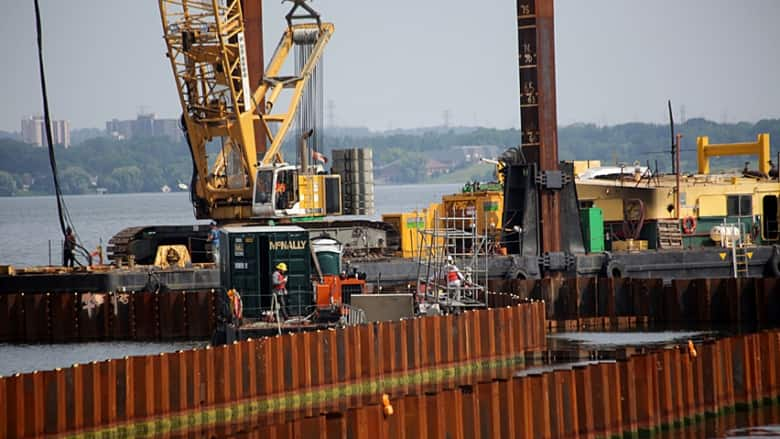 Crews work on the actual Randle Reef in July 2017. (Samantha Craggs/CBC)
The origins of the deposits date back to a coal gasification plant back in the 1800s. Decades of industrial pollution added to it.
The reef itself is named after Captain Harvey T. Randle, a marine pilot with the Hamilton Harbour Commission who was stranded on the reef in 1964.
Milestone Environmental Contracting Inc. and Fraser River Pile and Dredge Inc. are doing the work. The dedging phase, costing $32 million will take two years, with the whole project completed by 2022.
[ad_2]