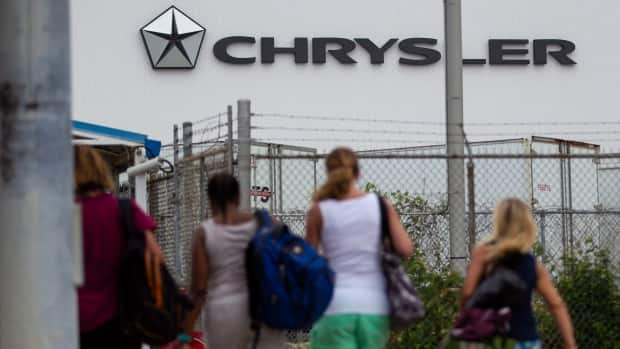 [ad_1]

Mike Malott has survived massive turmoil during his nearly 20 years as an automotive worker here in the heart of the Canadian industry — but now that his livelihood is in the crosshairs of a United States president who appears hell-bent on restricting cross-border trade, he is frightened.
The 43-year-old assembly line worker and other residents of this southwestern Ontario city have been on edge for months during strained North American Free Trade Agreement negotiations that have included intense scrutiny of auto production in Canada, the U.S. and Mexico.
But Trump's post-G7 Twitter tirade about imposing a 25 per cent tariff on auto imports from Canada could have potentially devastating consequences for the integrated supply chain that has been built over decades and cause job losses on both sides of the border.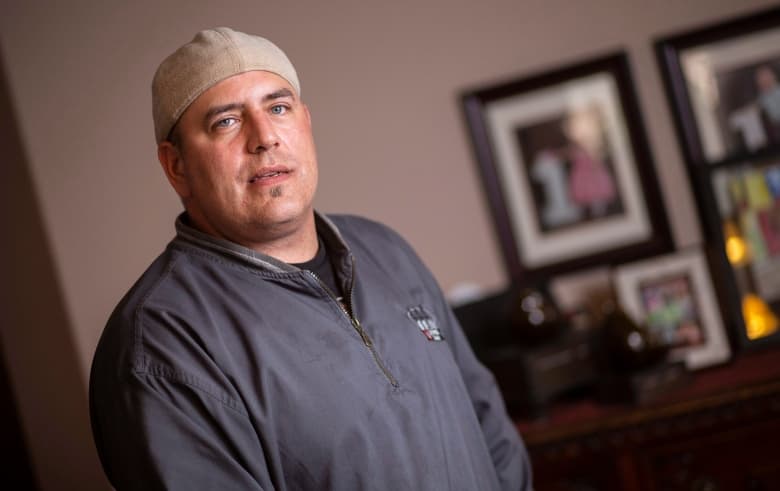 Autoworker Mike Malott poses for a photo in his Windsor, Ont., home on Tuesday, June 12, 2018. (Geoff Robins/Canadian Press)
Some fear the penalties could drive the city's auto plants, including the Fiat Chrysler Automotive factory where Malott has spent the majority of his career, out of Windsor and the country altogether.
"I can't even imagine what the city would look like without Chrysler in it," Malott said in an interview on Tuesday at the suburban Windsor home he shares with his wife, three children and a chocolate lab.
"This city would become a ghost town."
Malott is one of the roughly 6,000 people employed at the assembly plant, the largest manufacturing workplace in Canada, according to a 2017 report from the Automotive Policy Research Centre at McMaster University in Hamilton.
FCA worker Mike Malott, talks with his daughter Jada, 14, in their Windsor, Ont., home on Tuesday, June 12, 2018. (Geoff Robins/Canadian Press)
He worries he'd have difficulty finding an equivalent job in the city with his skill set if he were to lose his job at the assembly plant, which typically pays upwards of $30 an hour.
"If I don't have a Chrysler job, I don't have what I have today."
Windsor would be the epicentre of a tariff fallout that could impact Ontario's entire economically important manufacturing base and reverberate across the country. Canada's auto sector, the country's leading exporter, delivers roughly $80 billion in economic activity annually. It employs some 500,000 Canadians through direct and indirect jobs.
The city has long been synonymous with the auto industry – during the early 20th century, Ford, General Motors and Chrysler all had operations here.
But the industry was decimated in the wake of 2008's Great Recession, which saw both the Ontario and Federal government in 2009 step in to contribute $10.6 billion to Chrysler Canada and GM Canada to keep them afloat.
Workers arrive for their shift at the Chrysler (FCA) assembly Plant in Windsor, Ont., on Tuesday, June 12, 2018. (Geoff Robins/Canadian Press)
GM closed its remaining manufacturing plant in Windsor in 2010, ending its 90-year-relationship in the city. Ford still has two engine plants in Windsor, employing roughly 2,330 people between them – far from the as many as six plants the automaker had at one point.
But the city still wears its automotive credentials with pride. Posted outside of the FCA Windsor assembly plant is a sign that reads: "Made. Right. Here. Chrysler Pacifica. Windsor Proud."
The sector's health, however, remains heavily reliant on the United States.
Canada exported some $63 billion worth of automobiles in 2016, 96 per cent of which was to the U.S., according to Statistics Canada and the U.S. Census Bureau. On top of that, the country exported roughly $21 billion in auto parts in 2016 – 90 per cent of which was shipped south of the border, according to the APRC.
Every Canadian auto assembly job creates nine spinoff jobs – ranging from parts suppliers to restaurants – according to the Canadian Vehicle Manufacturers' Association.
The automotive industry and the ancillary businesses are still the "bread and butter" of Windsor, but the city has been making efforts to diversify into other industries and skills in areas such as Information Technology, said Mayor Drew Dilkens.
"Nothing changes quickly, but we're committed to diversification," he said.
Auto parts makers have also tried to diversify into other industries and markets, said Jonathon Azzopardi, chief executive of Windsor-area tool and mould company Laval International and a board member of the Automotive Parts Manufacturers' Association.
Jonathon Azzopardi, President and Chief Executive of LAVAL International, a tool and mold company in Windsor, Ont., poses for a photo in the company's office on Tuesday, June 12, 2018. (Geoff Robins/Canadian Press)
Yet, roughly 70 per cent of the association's members send their wares due south and many products cross the border roughly seven times in the process, he said.
The recent U.S. imposition of steel and aluminum tariffs will already constrain their profitability, which would be exacerbated by an auto tariff.
"Those who still rely heavily on the U.S. and the auto industry should be pretty concerned," Azzopardi said.
"It could deal a death blow to the automotive industry for Canada."
The tariff threat looms at a time when the automotive industry has just recovered from the 2008 recession. The sector employed an estimated 140,404 people in 2016, after adding roughly 14,700 jobs over the preceding four years, according to a recent report from McMaster's auto centre.
Workers arrive for their shift at the Chrysler (FCA) assembly Plant in Windsor, Ont., on Tuesday, June 12, 2018. (Geoff Robins/Canadian Press)
Trump's comments have also cast uncertainty on planning in an industry that makes decisions on new vehicles five years in advance, said Ken Lewenza, the former national president of the Canadian Auto Workers union, who now works as an adviser for the union's latest iteration, Unifor, in Windsor.
Many corporate board rooms in the auto industry are likely hitting the brakes on their plans as a result, he said, as the deeply integrated North American automotive supply chain operates "almost without borders."
Detroit, or Motor City, sits just across the river from Windsor – and the GM and Chevrolet logos emblazoned on the tallest tower of the American city's skyline serves as a perennial reminder of their mutual ties to the automotive industry.
"You can't shut down the Canadian operations without affecting U.S. operations. And vice versa," Lewenza said.
"This, quite frankly, would be a real challenge for the auto industry and be a longer type problem."
Ontario's auto sector employs an estimated 124,000 people. A blow to the thousands of jobs at factories in auto towns across the province, including in Alliston, Brampton, and Oshawa, would also have a ripple effect on the restaurants, cafes, stores and other businesses that rely on autoworkers' patronage.
Former president of the Canadian Auto Workers Union, Ken Lewenza poses for a photo in Windsor, Ont., on Tuesday, June 12, 2018. (Geoff Robins/Canadian Press)
Auto manufacturing is still a crucial part of local economies even in cities such as affluent Oakville, often regarded as a bedroom community for commuters to Canada's financial heart in Toronto.
In an industrial section of the tony Greater Toronto Area community, dozens of 18-wheelers passed through the gates on Tuesday morning at the Ford Assembly Complex, which employs about 4,600 people. The plant's staff parking lot was packed with the same types of Fords and Lincolns pieced together by workers at the plant.
Peter Giannopoulos, owner of the nearby Sunlight Grill is one of the entrepreneurs operating in a nearby plaza who is praying that Ford stays in the area. The thousands of workers it employs are a boon for his business.
"We get a lot of Ford traffic here. You come here on a Friday and you see the chits that we have for take-out or deliveries, you'd be shocked," Giannopoulos said, adding that several of his neighbours work at the plant.
"Even though Oakville has its rich side, there's a lot of middle class people here who have been working at Ford 20 or 30 years."
Back in Windsor, a stone's throw away from the FCA plant, the Penalty Box restaurant is filled with diners. The autoworkers' breaks, at less than 30 minutes, don't offer enough time to stop in for a sit-down meal, but they come on their down time, said the restaurant's owner, Van Niforos.
"The plant means a lot to us here…. Everyone in town profits from them being here."
Van Niforos, owner of Windsor's Penalty Box restaurant prepares food in his kitchen Windsor, Ont., on Tuesday, June 12, 2018. (Geoff Robins/Canadian Press)
At just 14-years-old, Windsor autoworker Mike Malott's daughter Jada is already concerned about her economic future in a hometown where generations have relied on the auto sector.
"I'm scared I'm going to have to leave my city to find work," she said.
"That's my biggest fear."
Jada Malott, 14, daughter of autoworker Mike Malott poses for a photo in her Windsor, Ont., home on Tuesday, June 12, 2018. (Geoff Robins/Canadian Press)
[ad_2]