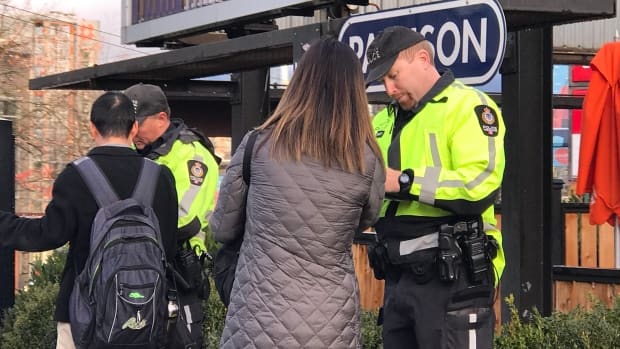 [ad_1]

The Vancouver Police Department is defending street checks and arguing that officers are not arbitrarily carding people, following allegations of racial bias.
Indigenous and civil rights groups say Indigenous and black people are over-represented in the police practice of stopping a person, obtaining their identification and recording personal information.
"A street check is when we come across suspicious circumstances or suspicious people," said VPD Chief Adam Palmer.
"They are not random, they are not arbitrary."
The checks, he said, are just as often the result of a member of the public calling to report suspicious activity as a police officer coming across something suspicious during a patrol.
"I think people would be horrified if the police didn't show up to check up on it," Palmer told Stephen Quinn, host of CBC's The Early Edition.   
Statistics of stops
The Union of B.C. Indian Chiefs and the B.C. Civil Liberties Association filed a complaint with the province's police complaints commissioner, based on data released under a Freedom of Information request.
The data shows that 15 per cent of all street checks conducted between 2008 and 2017 were of Indigenous people — yet they make up just two per cent of the population.
According to police data, four per cent of those checked were black, despite black people making up less than one per cent of Vancouver's population.
Palmer says the checks do not reflect a bias but rather reflect crime rates, arguing that is is unrealistic to expect demographics and crime ratios to be exactly aligned.
"The arrest statistics that we have in the city, they match the demographics that we have for street checks as well," he said.
"It reinforces the fact that those are the people who are committing crimes in our city."
Not just a Vancouver problem
Alok Mukherjee, chair of the Toronto Police Board for 10 years until 2015, faced similar concerns with checks during his time with the police force.
"This is a problem that has existed all across North America," he said. "Vancouver doesn't seem to be the exception."  
The underlying factors behind the data needs to be closely examined, he said, and the detrimental impact it has on trust between the police and communities needs to be considered.
"It's a basis for asking serious questions," Mukherjee said.
"We may well find that conscious or unconscious bias is a part of the pattern. It may also tell us something about the model of policing that is being used."
The VPD is reviewing the complaint.
"It's important that the general public has trust in the police," said Palmer. "If the public have concerns, then we are going through the proper process."
With files from The Early Edition
[ad_2]