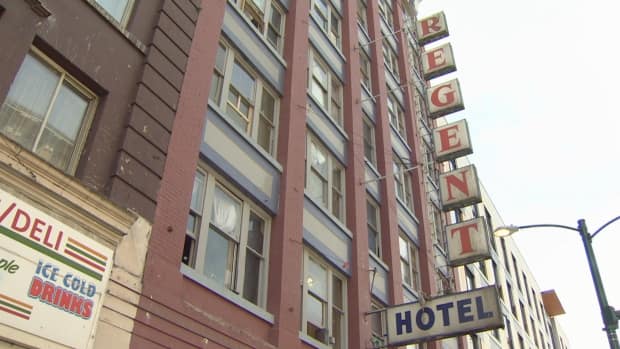 [ad_1]

The City of Vancouver has ordered a Downtown Eastside SRO to close, with the residents moving into a nearby property purchased by the B.C. government. 
The Regent Hotel at 160 East Hastings St. was declared unsafe by the city on Wednesday, with all occupants ordered to leave by June 28, according to a news release by the provincial government.
In the same release, the province said it had purchased two buildings on Main Street called the Jubilee Rooms, approximately two blocks away, for $12.5 million.
Around 80 residents of the Regent will move into the buildings — which had been renovated prior to the government purchasing them — at shelter rates of $375 per month or lower.  
"After many years of deplorable negligence by the owners of the Regent Hotel, the city and province must intervene for the safety and wellbeing of tenants," said Mayor Gregor Robertson in a statement. 
The Regent had been the subject of more than 1,000 bylaw violations, of which 445 have been referred to prosecution. 
The building is owned by the Sahota family, known for owning various problem buildings in the city, including the Balmoral Hotel, which the city ordered evacuated last year over fears of a collapse. 
More to come. 
[ad_2]