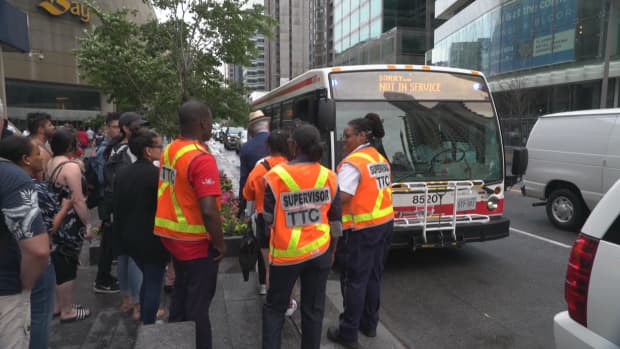 [ad_1]

Homicide detectives are investigating after a man in his early 20s was fatally struck by a subway train at Bloor-Yonge station on Monday morning. 
Toronto police arrested a man in his 40s in connection with the incident. He was not immediately charged. 
Det. Rob North said the victim was on the platform around 10:15 a.m. and "about to get on a train" when he was hit.
"We believe this person was the victim of a homicide," said North. "We believe he could have been pushed."
The man was hit by an eastbound train on Line 2. Police don't believe there was any altercation leading up to the event. The victim was taken to hospital, where he later died.
Police and transit officers arrested the suspect at the scene shortly after what they say was an "isolated" incident.
North, who works with the homicide unit, declined to offer any details about the cause of death or whether the victim and suspect knew each other, but said the suspicious nature of the death emerged quickly.
After reviewing surveillance video, North said, it became clear the death was not accidental.
"Video in the subway system is very clear video," he said. "Obviously we've seen something on there that causes us some concern."
Any witnesses are urged to contact police.
TTC service resumes
The Toronto transit agency said service has resumed on its system after being disrupted for the investigation.
Trains on Line 2 had been bypassing Bloor-Yonge station, but have since returned to regular stops. 
"While still under investigation, incidents of this nature are incredibly rare," the TTC said in a statement. The transit agency said it will review any measures that might reduce the chances of an incident like Monday's from happening again.
The TTC has provided surveillance video to police and has also arranged for counselling services to its employees, Ross said. 
Line 1 had been closed between St. Clair and Union stations earlier Monday due to an injury on the tracks at College station.
[ad_2]