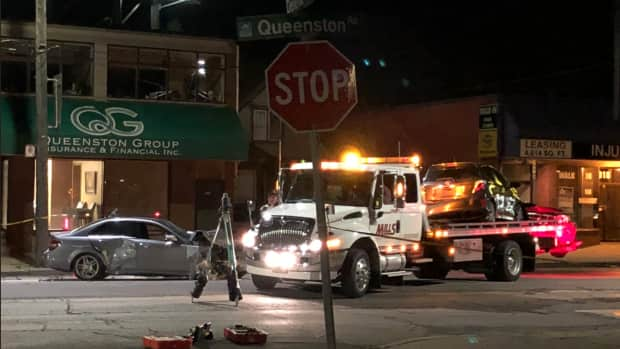 [ad_1]

Hamilton police say they have identified a second driver involved in street racing where a 25-year-old Hamilton woman was killed last week during the multi-vehicle collision. 
Last week police reported that the woman died after the crash and that alcohol and speed were factors.
Police now say they have more details as to how the crash happened and have found the driver they were looking for. 
Police say, through the course of the investigation, it was discovered that just prior to the collision, two Mercedes Benz were street racing at speeds over twice the speed limit on Queenston Road.
It happened June 13 shortly after 5:30 p.m. on Queenston Road and Delena Avenue. 
Witnesses at the scene described two vehicles racing westbound on Queenston Road.– The Hamilton Police Service 
"Witnesses at the scene described two vehicles racing westbound on Queenston Road," said police in a release. 
One of the vehicles was a silver Mercedes C350 being driven by a 35-year-old Hamilton man who was transported to hospital where he was treated for minor injuries and released. 
The other vehicle, police say is described as a white, four-door, sedan Mercedes. 
Police say, as the woman entered onto Queenston Road from a private drive near Delena Avenue, her car was struck on the drivers side by the silver Mercedes Benz. 
According to police, crews worked on providing medical assistance to the 25-year-old woman who was driving a Toyota Yaris.
Police say she was unresponsive at the scene and transported to hospital where she died. 
After the collision with the Toyota, the silver Mercedes Benz careened westbound in the eastbound lanes of Queenston Road causing a secondary collision with a 37-year-old Hamilton man who was driving a Ford Escape. 
He was brought to hospital where he was treated and released. 
The 35-year-old man driving the silver Mercedes was charged with dangerous driving causing death with a vehicle and adult fail to comply with probation last week. He was held in custody say police. 
Charges
Police say the driver of the white Mercedes, who they recently identified, failed to remain at the collision scene, leaving the area without providing any information or assistance to those involved. 
Police say with the help from witnesses, that driver, a 23-year-old man from Hamilton has been identified and charged with dangerous operation causing death with a motor vehicle and failed to remain causing death. 
Police say alcohol and speed played a role in the crash although they say further investigation is required before details relating to alcohol related offences can be released. 
Investigators are still asking for witnesses of the collision and those who may have seen the events prior to, and the collision itself, to contact the Collision Reconstruction Unit at (905) 546-4753 or (905) 546-4755.
[ad_2]