[ad_1]

A Sudbury couple says they're "staring down the barrel of litigation" in an ongoing property dispute with Laurentian University.
James Crispo and Dominque Ansell own a home on South Bay Road, but two summers ago, they discovered half of their backyard is actually on university property.
The couple decided made the university an offer to purchase the land, which contains a septic bed, shed and patio that were built by the previous owners.
Laurentian has since turned down three separate proposals from Crispo and Ansell, including an offer in November 2017 to pay $70,000 for the 0.1 acre and to covey another portion of land 1.5 times the size at no cost.
Aerial view of Dominique Ansell and James Crispo's property. Everything past their pool, including their septic bed and shed, are on Laurentian University's land. (Laurentian.org)
Couple wants a 'neighbourly' discussion
Now the couple says the university has suggested it will take legal action if the encroaching septic bed, shed and patio aren't removed from the property by the end of the month — a request Crispo thinks is unreasonable.
"Anyone with a head on their shoulders knows that the time to request a building permit to implement and design a septic system and to relocate that system takes far more than the 26 days that the university has requested," Crispo said.
Crispo and Ansell, who consider themselves "exceptionally proud alumni" of Laurentian, are disappointed the school won't come to the table to find another solution or explain the reasons for the decision.
"We don't really know the real reason, and what kind of frustrates us is we would've like to sit down at a table and maybe discuss this in a neighbourly fashion," Ansell said.
She added that the experience has been extremely stressful for the couple, who have been trying to settle down since relocating to the north for work.
Buyer Beware
Crispo and Ansell held a community meeting on Thursday night to share their story, which attendee Sarah Bujold said was discouraging to hear.
Like Crispo and Ansell, Bujold and her husband are both young professionals who recently returned to the north for work.
"It was disappointing they've been … faced with so many barriers and obstacles in order to own their land and feel like they're able to start their lives," she said.
Bujold said the couple's "buyer beware" story is something she and her husband will keep in mind when they decide to purchase property.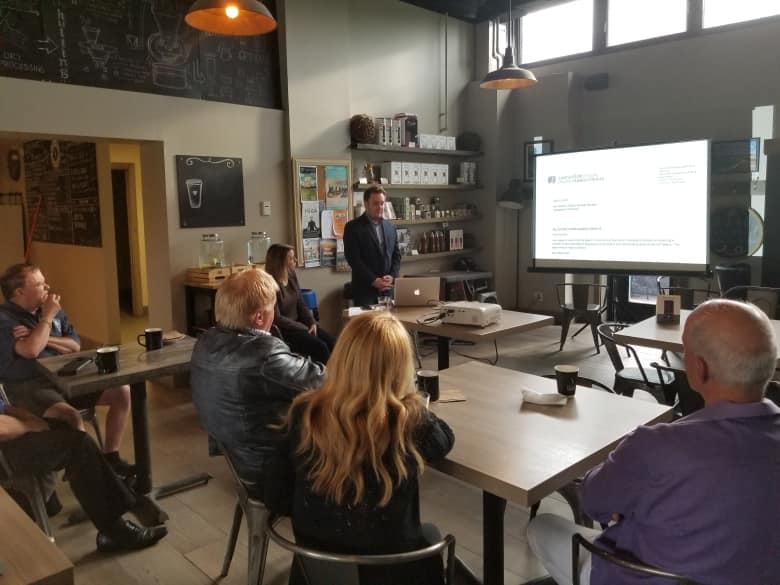 Crispo and Ansell held a community meeting on Wednesday to share their story. (Robin De Angelis/CBC)
Although Crispo and Ansell say they will evaluate the university's request to remove the encroachments, they still hope to sit down with the university and find a solution.
"We want to emphasize to the university's board of governors and administration that were are willing to meet at any place and any time to discuss this issue in an equitable fashion."
In a statement, a spokesperson for Laurentian University said it will not comment on the issue, as it is a matter between two landowners.
[ad_2]