[ad_1]

Catfish is passing as cod and tilapia is masquerading as snapper in Metro Vancouver, according to a new study.
Researchers at the University of British Columbia found up to a quarter of seafood sold in the region was mislabelled.
The team collected 281 samples of fish and other seafood from restaurants and grocery stores, then tested the DNA to determine the true species.
Their study, published in the journal Food Control on Monday, found that 70 of the samples — or 25 per cent — had been mislabelled either accidentally or intentionally.
The results are comparable with another study done by the school almost 10 years ago, said Yaxi Hu, a PhD candidate at UBC and the latest study's lead author.
The global supply chain is very complicated and a fish can pass through many countries before it hits a supermarket, so it's difficult to tell when or why a sample was mislabelled, she said.
"Different countries — their accepted common names for some sea species are not quite the same. So there could be some unintentionally mislabelled products during the shipment."
'Seafood fraud hurts our oceans'
Along the supply chain, someone may intentionally mislabel seafood in a bid to pass it off as a more expensive product, which is food fraud, Hu said.
That can have big impacts on consumers and could pose health risks for people and for fish stocks, said one sustainable fisheries advocate.
"Seafood fraud hurts our oceans, it hurts our health and it hurts our wallets," said Julia Levin, a seafood campaigner with Oceana Canada, which helped with the research in the study.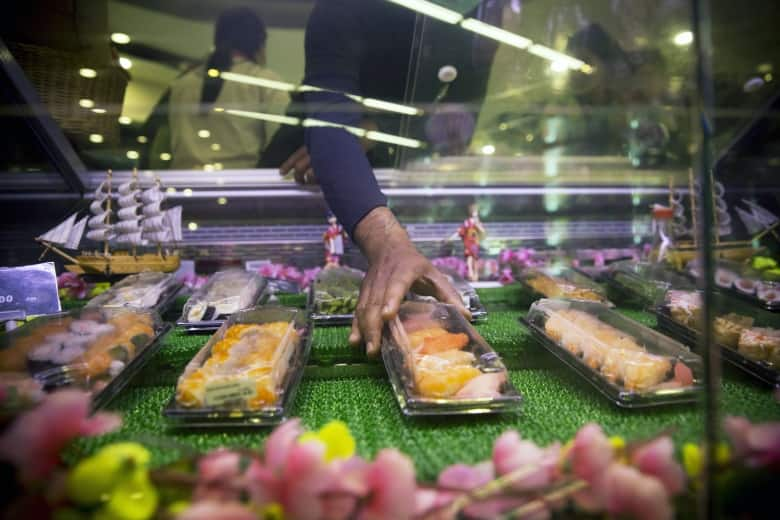 UBC researchers collected 281 samples of fish and other seafood from restaurants and grocery stores, then tested the DNA to find the true species. ( Brent Lewin/Bloomberg)
Intentional mislabelling can mask concerns about sustainability or human rights, Levin said.
"As a consumer, if you want to make a responsible decision about seafood, you have to know exactly what you're getting — like the species — and exactly how it was caught, whether it was farmed, whether it was wild caught and the gear that was used, as well as where it came from," she said.
Consumers can also unknowingly be exposed to allergens, toxins and environmental contaminants if they eat fish that's mislabelled, Levin added.
The problem isn't contained to B.C., she said, noting that Oceana Canada looked at 98 seafood samples from around Ottawa last year and found that nearly 50 per cent were mislabelled.
The group is currently working on a national report on seafood fraud that's due out in August.
Consumers need details: experts
Both Hu and Levin said they want to see consumers offered more information about their seafood, including labels in grocery stores that have the scientific names of fish and where the product was caught.
Levin said the federal government should require the marine industry to implement "boat-to-plate traceability," tracking seafood as it moves through the entire supply chain.
"We need to make sure the details are right and we need more details," she said.
Hu said she'd also like to see the government-accepted names of fish harmonized between major trading countries to reduce unintentional mislabelling of fish.
[ad_2]