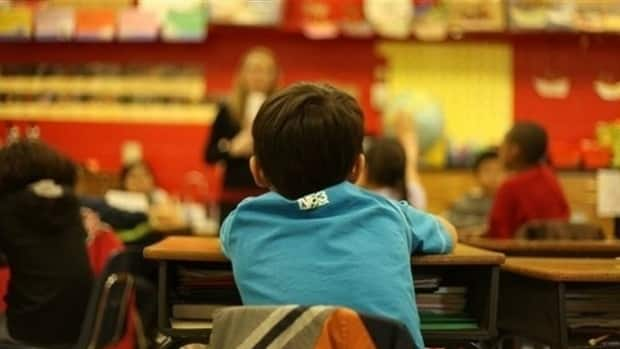 [ad_1]

Ever since the 2016 Supreme Court ruling on class sizes in B.C. schools, Nicole Clay and her children have struggled to get the support they need from teachers and school staff. 
After 15 years of strife between the B.C. government and the B.C. Teachers Federation, the Supreme Court ruled in November 2016 that class size and composition was to be restored to 2002 levels. In March 2017, the province committed to hiring 2,600 teachers across B.C.
Clay has four children, three of which have specialized needs when it comes to learning.
One of her sons, who is 11, has autism, and Clay said he has the highest requirements when it comes to learning assistance.
"Part of his education plan … designated that he had a certain amount of support," she said.
"Up until this year, it worked fine and there was adequate support."
'Recruitment and retention' at root of issue
These concerns are nothing new to Amanda Jensen, president of the Kamloops Thompson Teachers Association. She said she's heard this from many other parents, and from teachers.
"One issue has to do with special needs, or what we call learning assistance teachers being trained," Jensen said. "There is a shortage of those teachers in British Columbia."
"There's also an issue across the province with a shortage of teachers teaching on call."
Jensen said that when an on-call teacher is needed but unavailable, schools will pull  learning assistance teachers from their usual roles to fill the gaps, leaving some students without their regular support.
That issue, she said, comes from struggles with recruiting and retaining teachers in all areas of the province. Since the ruling from the Supreme Court, more teaching positions have opened up, and teachers can find a job in whatever community they'd like.
"We need to figure out ways to draw people to different communities."
Clay agrees.
 "The school isn't the problem, the teachers aren't the problem, the lack of resources in my opinion is the real problem," she said.
Karlene Purvis, whose eight-year-old son has autism and ADHD, says she's observed the same situation.
"They cut down the class size so now there's more small classes, but the same amount of support," she said.
"He is constantly in trouble because he is lacking the support he needs," she said.
Jensen said the B.C. Teachers Federation has been working with the provincial government to solve that issue.
With files from Daybreak Kamloops
[ad_2]