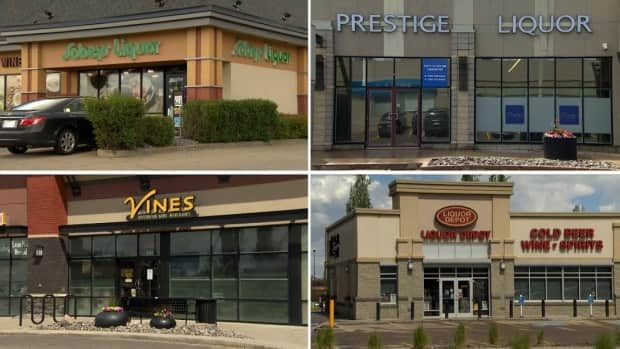 [ad_1]

On three corners of a major intersection in suburban south Edmonton, three liquor stores have been doing business for years.
Next month, another liquor store will open on the remaining corner.
As the city considers relaxing its liquor bylaws to allow tighter clusters of boozy businesses in the downtown core, the case demonstrates what can happen when the market gets too crowded for commercial comfort.
The intersection of 23rd Avenue and Rabbit Hill Road is an axis of alcohol, with a Sobey's Liquor, a Liquor Depot, Vines Wine Merchants and the soon-to-open Prestige Liquor in the Terwillegar Gardens Shopping Centre. 
'That's too much'
"I think that's too much," said Ing Fan, who lives nearby. "Around this area, I think one or two liquor stores is enough.
"I don't think I'll try the new one."
The grand opening of Prestige Liquor, set for July 1, was delayed by nearly two years as the city and Liquor Depot challenged would-be operator Vishal Aggarwal. Aggarwal declined to comment for this story.
While each store is technically in a separate neighborhood — Magrath, Leger, Terwillegar Towne and Terwillegar Heights — all are located within a few hundred metres of each other. 
A regulatory hangover
The first three stores opened before the city brought in a bylaw in 2007 requiring all liquor stores to be 500 metres apart. The bylaw was designed to prevent the proliferation of liquor stores in neighbourhoods.
"The argument is that the concentration of liquor stores poses a social issue for the community and the quality of life for the residents in and around the high concentration of liquor stores," said Robert Noce, a lawyer who represented Liquor Depot in a lawsuit.
"There have been countless American studies in particular that have identified the concentration of liquor stores creates anti-social behaviour in neighbourhoods and communities," Noce said.
 A court battle 
The first application for construction of Prestige Liquor was rejected outright, based on the city zoning bylaw. Aggarwal filed an appeal in October 2016.
In January 2017, two months after the city amended the zoning bylaw so it would apply only to liquor stores in mature neighbourhoods, he was granted a development permit.
But Prestige soon hit another hurdle that landed the business in court in April 2017. 
Liquor Depot's parent company, Liquor Stores GP Inc.— which operates both the Liquor Depot store and a wine store at the intersection — filed a suit in the Alberta Court of Appeal seeking permission to appeal the decision reached by the city's subdivision and development appeal board.
Liquor Stores GP Inc. argued the city appeal board still had the right to reject the Prestige Liquor application, even if the store fit with the newly amended bylaw. 
In court, Noce likened the approval to a teenager who gets permission to stay out late for New Year's Eve, suggesting that just because you get to break your curfew once doesn't mean you can go out until 3 a.m. every night.
"It wasn't the greatest analogy," Noce told CBC News. "But it was an analogy that was used in the courts to try and explain the discretion that a development officer would have in that regard."
Justice Thomas Wakeling granted Liquor Stores GP Inc. permission to appeal, but Prestige Liquor ultimately kept its permit after another round though the courts. 
In the next case, three appeal court judges recommended Liquor Stores GP Inc. wade into the public debate around "the appropriate concentration" of alcohol stores in Edmonton and suggested the issue might "still be a live one."
The judges dismissed the appeal.
"Ultimately, as a result of that decision and city council's decision back in December 2016, I think it's safe to say there could be an increase of liquor stores in the suburbs of Edmonton," Noce said.
Sixteen new liquor stores have successfully applied to open up in outlying neighbourhoods since the bylaw exemption passed, and three more are in front of the development board now. 
Edmonton's 500-metre rule has been controversial for years. Critics such as the Downtown Business Association say it blocks new business, unfairly benefits existing stores and prevents healthy competition in the market.
Glass half empty? 
The city is again grappling with the bylaw. Colton Kirsop, a senior planner with the city, said city councillors will look at it in the fall. 
In January, the city's urban planning committee asked administration to explore options that may relax the regulations.This followed a request from Edmonton Oilers owner Darryl Katz for a special exemption to open a liquor store 30 metres from an existing one on the outskirts of the downtown Ice District. 
If the 500-metre rule is relaxed, there may be fewer headaches for new business, Kirsop said.
According to Kirsop, retailers are pushing to set up more shops downtown, where there is the highest density of residents.
"There are different types of liquor stores, some like to cater to a particular kind of product, like higher end wines, or they might be focused on whiskey or tequila," he said. 
"With a bylaw like this, it makes it difficult for there to be competition in the marketplace." 
[ad_2]