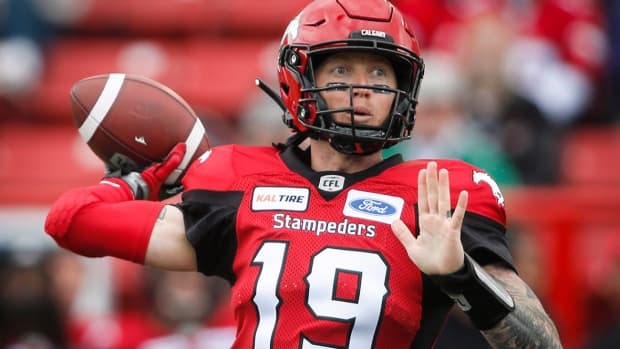 [ad_1]

After settling for field goals, the Calgary Stampeders finally broke through with fourth-quarter touchdowns in a 28-14 win over the Hamilton Tiger-Cats on Saturday.
Calgary's first five trips to the red zone — within 20 yards of the goal line — yielded four field goals and an interception.
But quarterback Bo Levi Mitchell threw a 15-yard touchdown pass to Kamar Jorden and Don Jackson rushed for a 44-yard touchdown in the final quarter.
Terry Williams and Jackson both ran for two-point converts for the hosts in the season-opener for both CFL teams.
"When you settle for field goals, you get a little nervous," Calgary head coach Dave Dickenson said. "You really do because you're missing opportunities to really put a gap between you and the opponent.
"It was a grind. It's early season. I don't think it's always going to be pretty.
"The team we played is a good football team and it's going to be a team that's going to win a lot of games, so for us to grind it out at home in a hard-fought game, that says a lot about our guys."
Manziel stays on sideline
Rene Paredes kicked field goals from 22, 17, 29 and 19 yards in front of an announced 23,717 at McMahon Stadium.
Hamilton quarterback Jeremiah Masoli rushed for a touchdown.
Lirim Hajrullahu kicked field goals from 41 and 43 yards for the Tiger-Cats, who have lost 13 in a row to the Stampeders. Hamilton's last win at McMahon was in 2004.
Former Heisman Trophy winner Johnny Manziel did not see action as Masoli's backup, so Manziel's CFL debut will have to wait.
Masoli moved the Hamilton offence efficiently with an 82 per cent completion rate in the first half and 69 per cent overall. But the Ticats also struggled to finish drives.
"We just had a bunch of missed opportunities," Masoli said. "We just kept shooting ourselves in the foot. Against a team like this, you can't do that."
Trailing by a touchdown with less than two minutes remaining in the game, the Ticats were on the march to Calgary's end zone when veteran Calgary defensive back Brandon Smith intercepted Masoli.
"We had the ball with a chance to score at the end to win," Masoli said. "You can't throw a pick like that. That's on me."
1-handed magic
Masoli completed 25 of 36 passes for 344 yards. Mitchell was 17-for-32 for 297 yards and was intercepted once.
"Ultimately it's a Week 1 win that we grinded away and made the plays when we had to," Mitchell said.
"We understand what it is and the monster we are in, which is an 18-game season, so we have time to put it together."
Kickoff was under cloudy skies and a temperature of 12 degrees with a shower moving through late in the third quarter.
When reporters crowded around Calgary receiver Juwan Brescacin in the Stampeders locker room post-game, his teammates roared their approval.
Brescacin's one-handed catch in the air for a 42-yard-play in the second quarter was a highlight-reel grab.
"It should be in the top-10 catches of the year," Smith said.
Emmanual Davis, who spent the last five seasons in Hamilton, and middle linebacker Alex Singleton, the CFL's defensive player of the year in 2017, led Calgary in tackles with eight apiece.
Cornerback Patrick Levels had three knockdowns.
Hamilton (41) and Calgary (40) rank first and second in the CFL in the number of returning players from last season.
Hamilton is in Edmonton to take on the Eskimos on Friday. The Stampeders are on the road against the Toronto Argonauts on Saturday.
[ad_2]