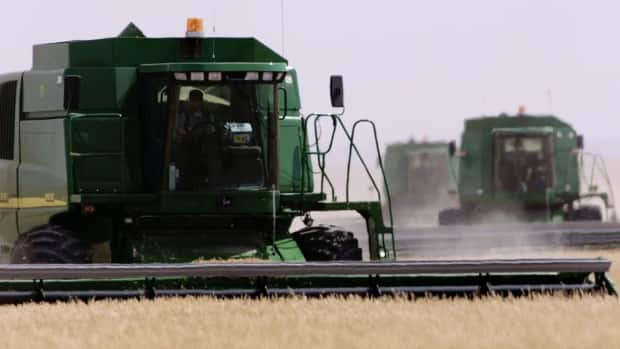 [ad_1]

South Korea has joined Japan in suspending trade in Canadian wheat following the discovery of a small number of genetically modified plants in southern Alberta.
It's standard protocol in both countries to temporarily close markets in such cases, Global Affairs spokesman Jesse Wilson said Monday.
"The Government of Canada is working with foreign trading partners to ensure they have all the necessary information to make informed decisions and limit market disruption," he said in an emailed statement.
Japan suspended imports of Canadian wheat on Friday after the Canadian Food Inspection Agency announced the discovery. South Korea followed suit on Monday.
Japan is one of the top importers of Canadian wheat at around 1.5 million tonnes a year and tends to buy the highest-quality grain at premium prices, said Cereals Canada president Cam Dahl. South Korea imports around 235,000 tonnes a year.
"I am confident that we have the answers that Korea is looking for just as I'm very confident that we have the answers that Japan is looking for," Dahl said, adding he's hopeful the suspension won't last for long.
Dahl said there have been no indications so far that the European Union and China would be making similar moves.
A contractor spraying for weeds along an access road last year informed local authorities that a few plants were not killed by Roundup herbicide, the CFIA said in an incident report. Tests found the plants were genetically modified to tolerate the weed killer.
GMO wheat not allowed in any markets
Genetically modified wheat is not allowed to be grown commercially anywhere.
Tests have concluded the wheat did not make its way into the food supply and was isolated to a few plants in the ditch where they were found. Health Canada said there are no safety risks.
The CFIA said the genetically modified plants in Alberta were not a match for any of the 450 registered wheat varieties in its database. It confirmed the Alberta sample was a match for a genetically modified wheat line used in research field trials two decades ago in Canada and the United States.
U.S. agriculture company Monsanto Co. did the tests between 1998 and 2000 on fewer than two hectares in Canada, making up 0.1 per cent of total Canadian wheat plantings at the time, said company spokesman Jeff Neu.
The trials were about 300 kilometres or more away from where the modified plants were found in Alberta, the CFIA said.
"Given the passage of time and large distances involved, there is no evidence that would explain how or if the current GM wheat finding is linked with a previous trial," the CFIA said in the incident report.
In 2013, several Asian countries temporarily banned U.S. wheat imports after genetically modified wheat was found unexpectedly in a field on an Oregon farm.
The wheat found in Alberta was not a genetic match to plants involved in any U.S. cases, the CFIA report said.
Japanese scientists coming to Alberta
Deron Bilous, Alberta's economic development and trade minister, said Japanese scientists are en route to Alberta.
"We're working very closely with CFIA and are confident that similar to other examples in the past, that this will be resolved quickly."
Alberta Wheat Commission general manager Tom Steve says he is not concerned that the actions taken by Japan and South Korea might set off a domino effect.
"We know from our discussions with the Federal Government and Canadian Food Inspection Agency — which is part of the federal government — that they've reached out to all our significant customers," he said. 
"We haven't had any indications from our other major customers that this will interrupt the normal flow of grain. But we also will be working hard to ensure they have faith in our regulatory and quality control system and that we won't have any other disruptions.
"The U.S. is also a premium market and we don't have any indication they're going to stop exports."
[ad_2]