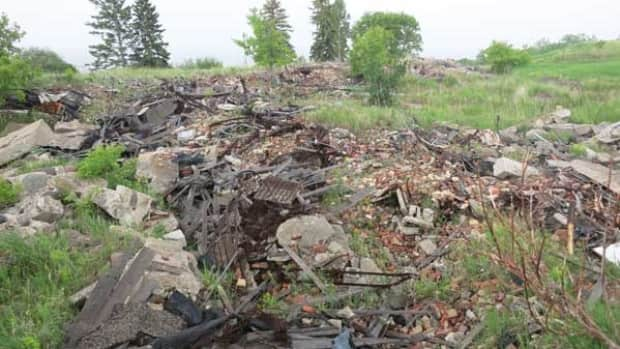 [ad_1]

The chief of a western Manitoba First Nation is opposing the expansion of a campground near Brandon where it's believed the bodies of residential school students were buried more than a century ago.
Chief Vince Tacan of Sioux Valley Dakota Nation says research has shown the bodies of as many of 50 students could be buried at what's now Turtle Crossing Campground on the northwestern outskirts of Brandon. The private campground used to be a city-owned park and is located along the Assiniboine River, southwest of the former Brandon Indian Residential School.
"We want to know what's going on," Tacan said. "This is important for our history and it's important for us to know that these remains are going to be repatriated. These were children, after all, that passed away under suspicious circumstances.
"I think we need to get to the bottom of this." 
Tacan said if there are children buried at the campsite, he wants to give them a proper burial. 
"We need to know if there is in fact a gravesite there and all we want is to repatriate them to the other cemetery so that they're not in a flood zone, so they're not in the middle of a campground, and so we can at least do our part to honour them," he said. 
The campground burial site, known to researchers as the Assiniboine River Burial Ground, is believed to be the area where the bodies of students were buried between 1895 and 1912, before burials were moved to another location closer to the school. Since the graves are not marked, it's not known exactly where they might be at the site. 
Research completed in 2015
The school, which operated from 1895 to 1972, brought in students from across Manitoba. Some children at the school, like many residential schools, died due to diseases such as tuberculosis and other airborne diseases, poor ventilation, malnutrition among students and inadequate sanitation.
In research completed in 2015, University of Manitoba student Katherine Lyndsay Nichols suggested it was plausible that more than 50 students were buried on the property, citing records for student deaths from the period when the site was used. 
Ground-penetrating radar and other technology was used at other sites near the school to identify possible graves, but hasn't yet been used at the campground site. 
Campground owner plans expansion 
Mark Kovatch, the owner of the campground, said he's seen evidence that suggests bodies may lie beneath part of the property.
"The evidence looks like there definitely was some bodies buried down here, but I don't think anybody really knows for sure where," he said in a phone interview Wednesday. "The area where they think they might possibly be buried is already underneath the campground that the City of Brandon developed."
A memorial stone and plaque were placed by the Girl Guides of Canada at the campground in 1972. 
Kovatch is planning an expansion of his campground in an effort to raise capital to build a ring-dike around the entire property, after extensive flooding in 2011 and 2014. He doesn't believe his plans will be affected by any investigation into the burial site, and said he will work with the city, province and other groups to get to the bottom of it. 
"We all want the same thing. We want this to be handled with respect. We're at the very early stages," he said. 
'We need to do this' 
Tacan said the First Nation has been in talks with the city and will, for now, be opposing the campground expansion until more information is known. 
"For some of the children, in addition to being isolated from their families, they pass away and we don't even mark their graves and now we have a campground being built over top the gravesites," said Tacan.
He doesn't think any other ethnic group would allow such a thing to happen.
"We need to do this. We need to reconcile the past. We need to know the history and we need to learn from it and we need to move on to the path of healing," he said. "And that's what we're trying to do." 
[ad_2]