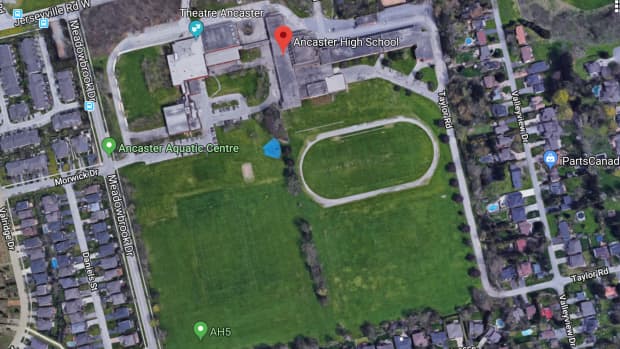 [ad_1]

Ancaster's city councillor says a local school board has declared war by wanting to sever 4.5 hectares of green space from the town's public high school.
But school board chair Todd White says the board is looking to get rid of unnecessary land, reduce liabilities and find money to help repair schools.
I'm going to use every avenue I've got to block this.– Coun. Lloyd Ferguson
Lloyd Ferguson says the Hamilton-Wentworth District School Board (HWDSB) has hurt its relationship with the city, which was fractured for years, by wanting to sell part of the 17-hectare (42-acre) property at Ancaster High School.
If the city wants to keep the land — currently home to several soccer pitches — it will have to buy the land itself, Ferguson said. And taxpayers have already paid for it once. He likened it to "a scam."
"That's, as I said to you before, a declaration of war," Ferguson told Todd White, HWDSB chair, in a presentation to city council's general issues committee Wednesday.
"I'm deeply disappointing in this. I'm going to use every avenue I've got to block this. I'm sorry."
Todd White, chair of the Hamilton-Wentworth District School Board, says the board is severing properties where it has more land than it needs. (Peter Power/The Canadian Press)
The board voted Monday to sever surplus land from some of its school properties, White said. Ancaster is just the biggest one.
This kind of response sets us back.– Trustee Larry Pattison
The school has about 10 soccer pitches, White said. It doesn't need 42 acres. The board needs fewer liabilities, he said, and more money to fix its schools.
There are no current plans to sell the 4.5 hectares (11 acres), White said, but the province dictates that the land be used for the "highest and best use." 
The board hopes to sever the Ancaster land into three parcels. The school will sit on about 27 acres. Another six acres, home to three soccer pitches, will also be severed.
But the city has to approve that severance. Ferguson said he's going to pull every string he can to stop it. 
"If you're severing it, you're going to sell it," says Lloyd Ferguson. (Samantha Craggs/CBC)
"You put the community through hell three or four years ago with an accommodation review. It's like Groundhog Day all over again."
How well the HWDSB and city get along is a sensitive issue for both sides.
Tensions began back in 2012, when the board did a sweeping review of its schools. It ended up closing eight high schools and several elementary schools. Councillors said that hurt communities.
There were other issues too. In 2012, the board angered lower-city councillors when it pulled its headquarters from downtown Hamilton. The city had offered the board the Cannon Knitting Mills, which the board nixed in a surprise late-night meeting.
In 2013, the board tried to partner on a new north-end high school. The city turned that down, citing mistrust in the school board.
An unfortunate statement considering how hard both our entities have worked to build strong relationships between our organizations. Both of us are managed by political strings beyond our control. We must respect our joint limitations & work together to serve our communities.

—@larry_pattison
This process doesn't help the relationships between Boards and their Council counterparts. This Board of Trustees has worked hard to build strong relationships with all partners including the City. This kind of response sets us back.

—@larry_pattison
But the relationship has improved, and White has focused on it as chair. The two organizations have joint committees now. Every year, the board presents its budget to city councillors, which White did Wednesday.
Not all councillors were angry at the Ancaster move. Aidan Johnson, Ward 1 councillor, said he knows the board needs money.
"I certainly don't blame the school board for thinking creatively."
Trustee Larry Pattison called Ferguson's words "an unfortunate statement."
"This (board) has worked hard to build strong relationships with all partners, including the city," Pattison tweeted.
"This kind of response sets us back."
[ad_2]