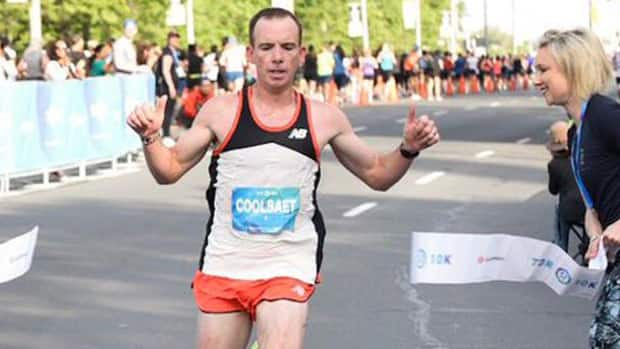 [ad_1]

Reid Coolsaet overcame his struggles in last year's Toronto Waterfront 10K with a first-place performance at Saturday's third annual event, while fellow distance runner Sasha Gollish extended her winning streak.
Pumped to win today! Big difference from struggling at this race 1 year ago. Still much more work to do to get back. <a href="https://twitter.com/hashtag/waterfront10k?src=hash&amp;ref_src=twsrc%5Etfw">#waterfront10k</a> <a href="https://twitter.com/hashtag/comeback?src=hash&amp;ref_src=twsrc%5Etfw">#comeback</a> <a href="https://t.co/8ZhPthDFEu">https://t.co/8ZhPthDFEu</a>

&mdash;@ReidCoolsaet
​Coolsaet crossed the finish line in 30 minutes 11.2 seconds, two months after the 38-year-old Hamilton resident placed ninth in the men's race at the Boston Marathon.
"I pushed the pace off the start to make sure it didn't come down to a kick," Coolsaet told CBC Sports. "Today showed me that I'm on the right path, progressing well, but still need to improve a lot to get back to where I want to be."
​The second fastest marathoner in Canadian history clocked 31:51 at the 2017 Toronto Waterfront 10K, Coolsaet's first race in seventh months after running 2:10:55 at the Fukuoka Marathon in Japan, where the University of Guelph graduate fell 46 seconds shy of Jerome Drayton's elusive Canadian record.
"Running a 10K when you're not in shape is pretty tough," he tweeted after last year's Waterfront 10K.
A two-time Olympian, Coolsaet has recovered well after being sidelined four months in 2017 with osteonecrosis on the fourth metatarsal bone in his left foot, a potentially career-threatening disease caused by reduced blood flow to bones in the joints.
Coolsaet was able to run close to 190 kilometres in the weeks leading up to Boston and plans to average 150 km/week until he begins marathon training in August.
Recently, Coolsaet announced he would run the Toronto Waterfront Marathon on Oct. 21, where he posted a meet record 2:10:55 in 2011. Coolsaet's personal-best time of 2:10:28 was set at the Berlin Marathon in 2015.
Gollish top Canadian in Spain
Gollish, 36, stopped the clock in 33:03.4 on Saturday after winning the women's race at the Canadian Half Marathon Championships in Calgary at the end of May.
We present you with the winner of the Canadian Half Marathon Championships – yeah <a href="https://twitter.com/SGollishRuns?ref_src=twsrc%5Etfw">@SGollishRuns</a>!!! 🇨🇦🥇<a href="https://twitter.com/CalgaryMarathon?ref_src=twsrc%5Etfw">@CalgaryMarathon</a> <a href="https://t.co/cjHjHOorB9″>pic.twitter.com/cjHjHOorB9</a>

&mdash;@oiselle
A month earlier, the 2015 Pan Am Games bronze medallist was victorious at the Banque Scotia 21K (1:16:13) in Montreal.
"From Scotia on, [my running] has been consistent and great," Gollish said.
Gollish was fully recovered from a left ankle sprain entering the World Half Marathon Championships in late March at Valencia, Spain, and finished as the top Canadian in 30th in a season-best 1:11:52 but came out of the race sick.
Her 1:11:05 PB was achieved at Indianapolis, Ind., in November 2016.
Saturday's race was Gollish's first 10K on the road in about 15 years, with many more races remaining on her bucket list.
"I really want to go run marathons in Doha [Qatar] and I'd like to race in Tokyo," the Toronto resident said in March. "Berlin is on the bucket list. Chicago, maybe."
Gollish is competing in the women's 5,000 metres on July 5 at the Canadian track and field championships in Ottawa. From there, she said she'll probably enter the Edmonton 10K on July 22 and is planning to run a marathon in the fall but "likely not" the Toronto Waterfront.
[ad_2]