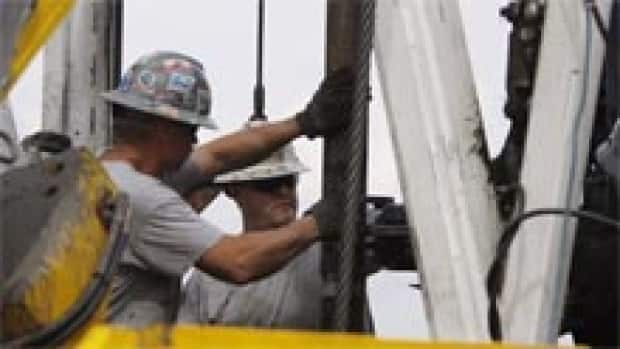 [ad_1]

Three and a half years into what was supposed to be a "temporary" moratorium on natural gas fracking in New Brunswick, the Gallant government has failed to execute key tasks it gave itself before the ban can be lifted and is citing that inaction as a reason to extend the moratorium further.
"Our government has put a moratorium on hydraulic fracturing, which will continue indefinitely, as it is clear that our conditions (for ending it) cannot be satisfied in the foreseeable future,"  read an update on the moratorium released by Premier Gallant last month.
But critics complain the five conditions set by government in 2014 to end the moratorium are mostly assignments the Gallant government gave itself and did not complete, including failures to strengthen provincial fracking regulations or change natural gas royalty rates.
Colleen Mitchell is the president of the Atlantica Centre for Energy. (CBC)
"We are not aware of any work the government has done in order to satisfy its own conditions," said Colleen Mitchell, president of the Atlantica Centre for Energy, an industry group that  advocates for the moratorium to be lifted.
U.S. gas supply
The moratorium will continue even though locally produced natural gas supplies are rapidly running dry and New Brunswick is being forced to turn to jurisdictions that do allow fracking to solve its growing gas supply problems.
"There's an incredible amount of gas that's coming up from the United States," said Enbridge Gas New Brunswick general manager Gilles Volpe about how the sources of gas supplying the province have been shifting.
Enbridge Gas New Brunswick general manager Gilles Volpe said there's a huge supply of U.S. gas coming to the province. (CBC )
"The large majority comes from fracked sources. That's probably the majority of the gas available in the northeastern United States and Canada."
New Brunswick is the largest consumer of natural gas in the Maritimes with more than 8,600 homeowners, businesses and government buildings that use the fuel.  
For nearly two decades demand has mostly been served by offshore deposits piped in from Nova Scotia, but those are nearly empty.  
A crew works on a drilling rig at a well site for shale-based natural gas in Zelienople, Pa., in June 2012. (Keith Srakocic/Associated Press)
Earlier this year in a hearing about looming shortages in the region, Nova Scotia's Utility and Review Board was told the end of gas produced locally is now "imminent" six years ahead of schedule.
"The record is clear that (Nova Scotia is) moving from a jurisdiction adjacent to significant offshore natural gas resources, to one without such resources," said the board.
That's a development that also affects New Brunswick and has forced companies in the province that buy natural gas to look west and south for supplies — most of it extracted in a way that remains banned at home
'A temporary cessation'
Fracking is the process of injecting fluids — like propane or mixtures of water, sand and chemicals — at high pressure deep into underground shale formations containing natural gas.  The process forces cracks to open in the rock allowing the gas to be extracted.
The method is common but controversial and, in December 2014, Brian Gallant's freshly elected government imposed a "temporary" moratorium on natural gas fracking to better prepare the province for the possibility of large scale development of its own gas resource.
"The moratorium is not a ban it is a temporary cessation," said Gallant as he announced the policy.
Premier Brian Gallant says it's a 'temporary cessation' when announcing the moratorium in 2014. (Jacques Poitras/CBC)
Gallant had promised the moratorium during the 2014 provincial election so the province could study fracking and its health and environmental effects in more detail. He said a pause would also allow for the province's natural gas royalty structure to be reworked and for the public and the province's first nations to be consulted on concerns that were being expressed.
Ultimately, he said fracking would require a "social licence" from citizens before resuming.
Natural gas supplies were not an issue for New Brunswick at the time of the moratorium since production in Nova Scotia was more than enough to satisfy demand in both provinces, but no longer.
Production in Nova Scotia has cratered since the moratorium on fracking in New Brunswick was imposed, falling 70 per cent since 2014, with further declines expected until reserves are completely exhausted in a matter of months.
Still provincial Energy Minister Rick Doucet said the loss of gas supplies from Nova Scotia changes nothing for New Brunswick.
"The government's position on the moratorium remains the same," he said in a statement emailed to CBC News.
"Multiple markets have the ability to supply New Brunswick with natural gas."
'Almost irresponsible'
Mitchell said banning fracking in New Brunswick while relying on gas that has been extracted that way from elsewhere is difficult to understand.
"I wouldn't say it's ironic. I would say it's almost irresponsible," said Mitchell.
Green Party Leader David Coon opposes fracking and said the end of gas supplies from Nova Scotia should encourage the switch to renewable energy in New Brunswick, not trigger a hunt for more gas supplies.  
"We're going to have to get off gas and this is just going to accelerate that timeline," he said.
It's not certain New Brunswick's gas formations are large enough to satisfy demand in the province, but Volpe believes the province should find out and then make decisions.
"We should be exploring and understanding how much there is out there and if it is extractable at the right price to be competitive. We don't know that," said Volpe.
"There's a potential to have something here, but we still don't know enough about it so we definitely encourage further exploration."
[ad_2]