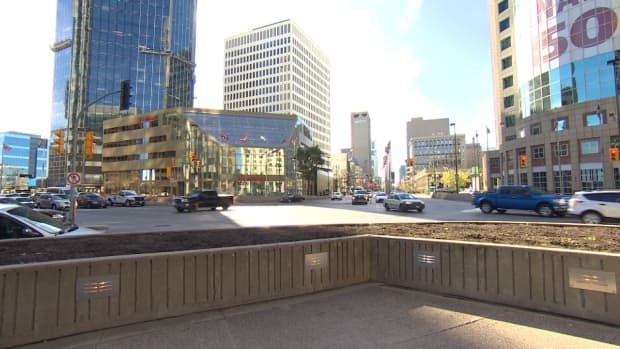 [ad_1]

The City of Winnipeg is looking for ideas for redesigning Portage and Main so people on foot can cross the intersection.
"For the first time in 40 years," the city's request for proposals says, "the stakeholders at this intersection have indicated a willingness to discuss the renewal and reintroduction of pedestrians to the intersection."
The request for proposals asks consultants to submit a "design vision" for Portage and Main that helps connect "people, places and transportation."
The requests also asks consultants to create a "construction staging plan" for building the crosswalks.
The final design should recognize the historical significance of Winnipeg's most famous intersection, the request for proposals says, as well as improve lighting and signage to ensure the intersection becomes a magnet to both tourists and Winnipeggers.
A second request for proposals asks for bids from consultants to do a structural review of the concourse beneath Portage and Main.
The applicant should be ready to examine the underground concourse roof as well as load-bearing walls, floors and foundations.
The city needs to know what immediate and longer-term work needs to be done to maintain the facility, the request for proposals says.
The underground mall has been the only way pedestrians can cross Portage and Main at the intersection since it was closed to foot traffic in 1979.
Reopening the intersection will likely be a major election issue in October. Brian Bowman has promised to reopen the intersection while Jenny Motkaluk wants to keep the corner closed to foot traffic.
[ad_2]