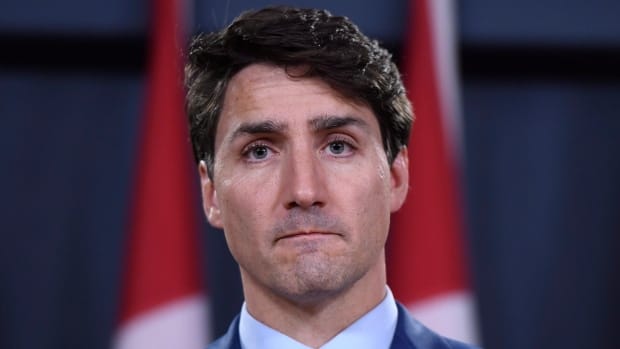 [ad_1]

Despite an ever-increasing strain on relations between Canada and the United States on a number of fronts, Prime Minister Justin Trudeau said Wednesday he thinks he has taken the right approach in dealing with U.S. President Donald Trump.
"I believe it's clear the way we have engaged with the president has been the right one," Trudeau said in French at a press conference marking the end of the parliamentary sitting.
The prime minister said he has been able to have "real conversations" with Trump that have allowed him to make the case that hurting the Canadian economy hurts the U.S. economy as well.
None of those conversations, however, have taken place since the close of the G7 meeting earlier this month in the Charlevoix region of Quebec.
"We continue to make sure that our folks are in regular contact, we continue to work on NAFTA negotiations," Trudeau said, noting that NAFTA discussions would continue throughout the summer months.
"I think the next time that I'll see him will be at the NATO summit in Brussels and I look forward to continuing to have a constructive relationship with him in which I will continue to stand up for Canadian interests."
Before Trump arrived at the G7 summit, he took to twitter to call Trudeau "indignant" over his trade stance — and then, after leaving the G7 summit early, once again used social media to call the prime minister "very dishonest" and "weak."
Asked why he thought Trump had singled him out for such a personal attack, and why Canada's appears to now to be firmly in the president's crosshairs, the prime minister dodged the question, saying he was going to stay on task.
"I'm not in a position to opine on motivations of the president," Trudeau told reporters. "I am going to stay focused on the relationship we are building on defending Canada's interests, on looking for ways to further push the benefits of improving and modernizing NAFTA."
Going forward, Trudeau said that he would continue to press the case that trade actions against Canada hurt the U.S. as well — and deal with shots from the president's Twitter account as they arrive.
Retaliatory tariffs
"I think one of the things that we see from the president is that he prides himself on a certain degree of unpredictability," Trudeau said.
Part of that air of unpredictability comes from the very real threat that the U.S. is set to impose tariffs on cars assembled in Canada, despite the deep integration of the auto industry across the Canada-U.S. border.
Trudeau does intend to do some harm to the U.S. economy — at least along the lines of the steel and aluminum tariffs are hurting Canada — by imposing tariffs on a number of U.S. imports beginning July 1.
The list of U.S. imports being slapped with tariffs runs from candy to lawn mowers to inflatable boats, and has prompted some to argue for a boycott of U.S. goods in favour of Canadian alternatives.
To boycott or not to boycott
Trudeau stopped short of endorsing a boycott on imports from south of the border — but did encourage Canadians to vacation at home this year.
"I am always one to encourage Canadians to discover our extraordinary country, to take vacations here at home, to continue to buy Canadian," Trudeau said. "If Canadians are looking for extra reasons to do so, then so be it, but I think it's important for Canadians to make their own choices on how they want to spend their money.
"One of the things that we did moving forward on tariffs on July 1 is ensure that the products for which we are putting tariffs on for items coming in from the United States have readily available substitutes, either Canadian made or made in countries that do not have tariffs to import into Canada."
Trudeau once again repeated his criticism of the U.S. policy, reversed today by Trump, that saw migrant children separated from their parents and kept in cages.
"What the Americans are doing is unacceptable, it's not just me who said it, all kinds of Americans, including Republicans, have said that this is unacceptable," Trudeau said in French.
[ad_2]