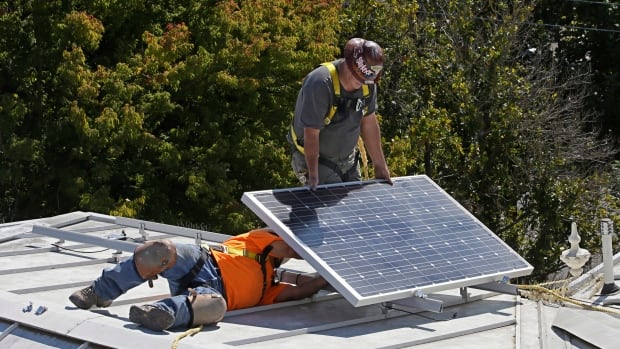 [ad_1]

Premier-designate Doug Ford has scrapped a rebate program that offered incentives for those who opted for energy-efficient renovations, leaving some Ottawa homeowners and companies adrift.
New rebate applications for GreenON, which used the proceeds from Ontario's cap-and-trade program, will no longer be accepted, according to the province's website.
However, already-approved rebates will be honoured if the work is finished by the end of August.
Brian Doyle, who lives in Ottawa's west end, falls under that category.
Doyle said he ordered new windows several months ago with the understanding that he'd get at least $5,000 back through GreenON.
He said he was shocked after finding out Tuesday that the program had been cancelled and worried that he'd have to spend far more than originally planned.
But he's hopeful the company will be able to get the work done before the Aug. 31 deadline.
"I think we'll be OK," he said. "But I don't think that's the case for everyone."
Doyle reached out to his MPP-elect Jeremy Roberts, a Progressive Conservative, expressing his disappointment in one of the first decisions made by the incoming government.
"I think that's symbolic, that the very first thing that they do is cut a program that was really geared toward the middle class and the average homeowner," he said.
A PC spokesperson said via email that Doug Ford "is delivering on his promise to put more money back into people's pockets" by scrapping the cap-and-trade program — and, by extension, the rebate program that used the proceeds.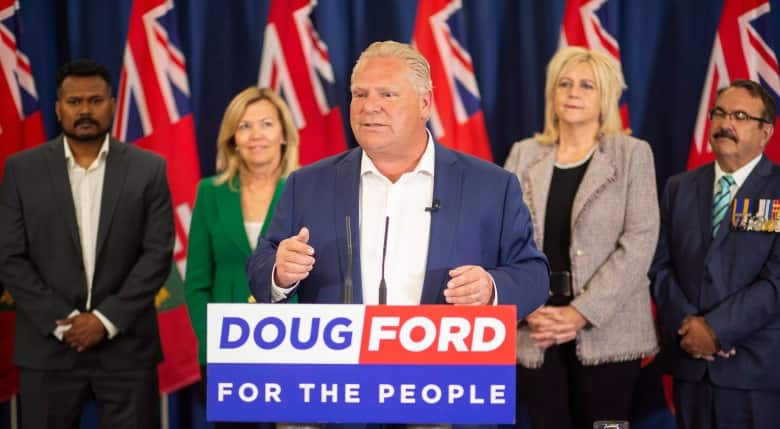 Premier-designate Doug Ford has pledged to scrap Ontario's cap-and-trade program. (Geoff Robins/The Canadian Press)
But Robb Barnes, executive director of Ecology Ottawa, said the decision is a sign of things to come.
"If you look at the policy signals coming from the new provincial administration, we're looking at a massive shortfall in terms of revenue for a lot of the projects that will move us to a more climate-friendly path in Ottawa," he said.
Plans to scrap cap-and-trade
GreenON was announced in December 2017, with money for the program coming from the province's cap-and-trade auctions.
Those auctions generated $2.4 billion in proceeds in 2017-2018, according to the last Liberal budget released in March.
The Liberals had earmarked $1.7 billion to invest in the program "over the coming years," according to that budget.
The fund offered several different rebates to homeowners and businesses who opted for energy-efficient renovations, including window replacements, heating and air conditioning installations and insulation upgrades.
Barnes said GeeenON offered residents a tangible way to do their part when it came to protecting the environment.
"Often something like climate change feels like this abstract, distant, invisible problem," he said.
"[The program] brought it home to a level where people could understand how they could make a meaningful difference in the fight against climate change while also improving their homes."
Solar panel rebates off the table
People looking for some money back on the installation of solar panels will now find themselves entirely out of luck.
The fund's solar rebate program was to be rolled out this summer, according to the original website, a plan scuttled by the decision to cancel the fund.
Henry Schroder, the chief operating officer of iSolara, said some of the solar company's potential customers signed up to be notified when applications started being accepted.
But with the cancellation of the program, Schroder said he isn't sure how many people will still go through with installation.
"We had between 40 and 50 customers who were interested in moving forward with a project under the GreenON funding," he said.
"I'm hopeful that a majority, or at least half, of those that have signed up tentatively will continue to work with us and move forward with projects."
He said programs like that prompted people to make better decisions when it came to doing their part.
But despite the disappointment, he's still hoping that the momentum behind green energy will carry the industry through.
"We're still going to see, I think collectively, people moving in a direction to make a difference," Schroder said.
"It would be nice to see the province get on board."
[ad_2]