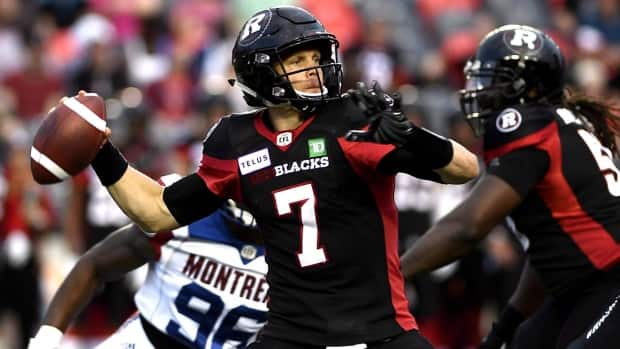 [ad_1]

The Ottawa Redblacks will look to reclaim top spot in the East Division — where they finished in 2015 and 2016 — after placing second behind the Toronto Argonauts last season.
The Redblacks finished with a record of 8-9-1. It's the third time in their four seasons that Ottawa has finished at or below a .500 record. The exception being 2015 when the finished with 12 wins and six losses. 
But head coach Rick Campbell isn't focusing on the past.
"A team always has a new personality — a team always takes on a new personality with some fresh faces. So I think it's all about 2018 and trying to win games this year."
Last year, Ottawa fell short of repeating its 2016 Grey Cup win, after falling in the East Division semi-final to the Saskatchewan Roughriders — who crossed over from the West Division for last year's playoffs.
The Redblacks will have a chance to avenge their playoff loss during their season opener. Ottawa will play host to the Roughriders on Thursday night.
Campbell said it would be a sweet victory but is more concerned about setting the tone for 2018.
"It's kind of a fun story line to think about, but honestly that hasn't been a focus at all, it's really a new year."
The CFL season opened last week, with Ottawa getting a bye. A win on Thursday could give the Redblacks  an early spot atop of the East Division, as the Argonauts, Hamilton Tiger-Cats and Montreal Alouettes all lost against western opponents last week.
In 2017 the western division overall was 29-10-1 against eastern division teams.
Ottawa finished 3-6-1 against western teams and 5-3 against divisional rivals.
The Redblacks will also be looking to improve their home record after only recording three wins at Lansdowne last year.
Continuity on offence, new faces on D
Campbell is back for his fifth season as head coach and quarterback Trevor Harris returns to helm the offence in his second season as a starter.
There were concerns Harris would not be ready to go for the season opener after going down with a leg injury in the pre-season. The Redblacks announced on Wednesday Harris would get the start against the Roughriders on Thursday.
Harris will have some continuity in his choice of offensive weapons. Wide receivers Greg Ellingson, and Diontae Spencer return, as well as 2017's East Division Most Outstanding Canadian, Brad Sinopoli.
William Powell also returns to the backfield at running back. All four players were East Division All-Stars last year.
Jon Gott and SirVincent Rogers return to add some continuity to the the front lines of the offence. 2017 East Division All-Star tackle Jason Lauzon-Séguin also returns, but is starting the season on the six-game injured list.
The Redblacks are seeing more new faces on the defensive side of the ball, including new defensive coordinator Noel Thorpe, who spent the last five seasons with Montreal as the defensive coordinator and assistant head coach.
East Division All-Star Antoine Pruneau returns at safety and will be joined in the secondary by fellow all-star Rico Murray who signed with the Redblacks after winning the Grey Cup with Toronto last season.
The Redblacks also signed defensive back Loucheiz Purifoy, who signed in Ottawa after two years with the B.C. Lions.
One of the more notable additions to the defence this season is linebacker Kyries Hebert, who was previously part of the Ottawa  Renegades in 2004 and 2005. Hebert was the East Division's Most Outstanding Defensive Player last year with Montreal.
Hebert will be joined at linebacker by Josh Johnson — who signed with Ottawa after an NFL stint in Jacksonville — and returning Redblack, Kevin Brown.
Defensive linemen A.C. Leonard and Michael Klassen have been brought in to bolster the defensive line.
The Redblacks kick off in their season opener against Saskatchewan Thursday night at 7:30 p.m.
[ad_2]