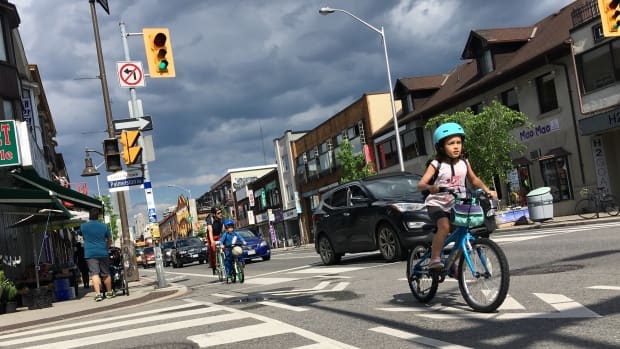 [ad_1]

Good morning commuters!
Late last week I asked you to weigh in on the effects of replacing the Harmer Avenue pedestrian overpass, especially on cyclists.
The plan was to replace the overpass with new bike lanes along Holland Avenue and Kennilworth Street — which isn't happening after all.
Instead, cyclists can ride on the sidewalk there.
I received a lot of feedback. Here's a sample.
Jane says …
"I live on this street in a condo and parking is essential to residents, business, trades, visitors and shoppers.
I am getting very tired of hearing that parking spaces could be taken away for bike lanes.
The councillor in this ward is very pro cycling and has received considerable opposition on this subject."
Two cents from Cas …
"That is very kind of the city, seeing that a lot of cyclists seem to ride on all sidewalks all the time, whether they are allowed to or not, with little or no enforcement. 
Ask any pedestrian about cyclists on sidewalks.
It is chronic and extremely dangerous and I have yet to see a cyclist get a ticket for this.
In this war between bicycles and cars, it is the pedestrian who loses each and every time.
Cars at intersections and crosswalks are a major threat to anyone who is just lawfully walking along and bikes constantly zoom along sidewalks without any apparent enforcement, all because they are afraid to be near cars on the road.
The pedestrian comes out at the bottom of this food chain.
That's just in the summer … in the winter we are at risk due to lousy sidewalk maintenance by the city. If you're not downtown, good luck walking somewhere during the snowy months."
Mr. One Wheel Drive (via Twitter) writes … 
Parking is a very inefficient use of public space that benefits very few people, whereas a bike lane would benefit hundreds.<br><br>This is appalling.

&mdash;@MrOneWheelDrive
Finally, Norm is off-topic, but has a bike perspective … 
"I'm also a driver, so I'm aware how cyclists look to me.
I bike to work at 3 a.m. and see quite a few cyclists wearing dark clothing, no lights or reflectors, and also wearing headphones burning through red lights.
There is very little traffic at that time but I've also encountered drivers speeding through those same red lights.
I've had some close calls. We can build bike lanes, but as we've seen, people are still getting hurt or killed."
Have a great day!
If you have a traffic or commuter gripe about driving, cycling or being a pedestrian commuter — anything from problem intersections, to parking, to inefficient routes — send it to me at​[email protected].
And remember, you can share what you see on the roads with me on Twitter at @cbcotttraffic. Or give me a ring at 613-288-6900.
[ad_2]