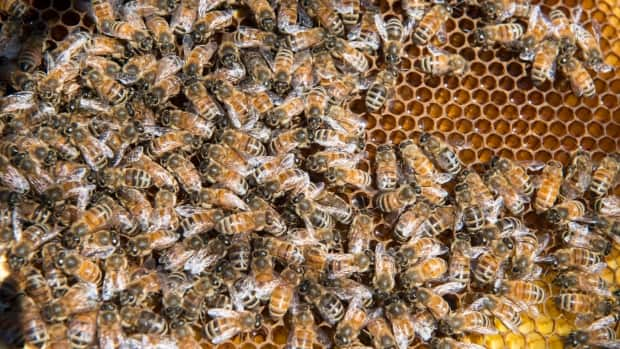 [ad_1]

When Ontario's beekeepers opened their hives this spring, they were met with bad news.
An Ontario Beekeepers' Association survey of about 900 beekeepers revealed that seven out of 10 suffered unsustainable losses over the winter. About 32 per cent of beekeepers reported colony losses of 70 per cent or more.
In a written release, the association said in a typical winter, beekeepers can recover losses by splitting hives, and adding new queens to make new colonies.
However, when losses exceed 20 per cent, beekeepers must purchase new queens and bees for an extra cost. Losses exceeding 50 per cent "can be catastrophic," the release states, as colonies will be in recovery mode all summer and beekeepers will receive little or no income from pollination services, or honey production.
Pollination vital to food production
Jaimie Board, a master beekeeper with Board's Northern Nectars near North Bay, said bee pollination is vital when it comes to food production, and not just for humans.
"Raccoons and bears and all sorts of different birds that rely on food to eat that are pollinated by bees," she said.
Board said the results of the survey show people must do more to improve bee habitats in the province.
"Homeowners can build insect walls," she said. "If you Google insect walls or bee houses, you find these amazing, gorgeous little hotels and places for bees to lay their eggs."
"Mow your lawn less," she said. "Make more gardens. And wild, indigenous gardens."
The association said that if the losses continue, many of its members won't be able to continue in the beekeeping business.
[ad_2]