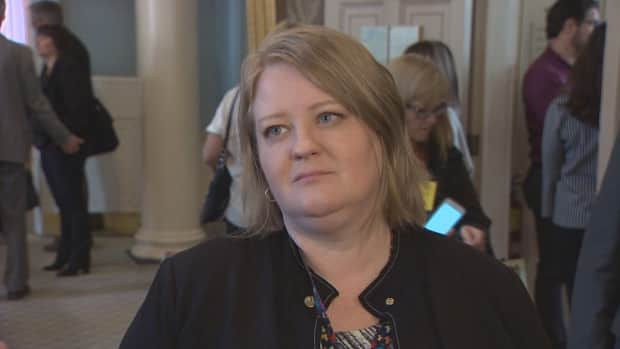 [ad_1]

Nova Scotia's deputy minister of community services says the province is done studying poverty and needs to act.
Lynn Hartwell is in Cape Breton this week meeting with anti-poverty groups and others, and said low-income earners will be getting more money from the province starting this summer.
In July, those who receive the poverty reduction credit will see an extra $21 a month on their cheques.
In August, the province will stop clawing back child support payments.
And in October, those who work will be able to keep more of their earnings while collecting income assistance.
Child support clawback to go
Hartwell said the average child support is currently about $275 a month, which will no longer be deducted from income assistance starting later this summer.
"That amount will immediately start flowing to people in August, and so that will allow families who are living in low income to make some different choices," she said.
"It means being able to send your child to a birthday party and buy the present that they want to buy for a friend. It means signing them up for soccer. It means signing them up for an after-school activity. That little bit of money will make a difference."
The best path out of poverty is a job, Hartwell said. Some of the changes are designed to help people who can't work because of a significant barrier, such as addiction or mental health issues.
But likely the most significant change this year will be allowing working people on income assistance to keep more of their wages, she said.
Work earnings a disincentive
"Currently, if you earn income and you're on income assistance — and about 10 per cent of our clients do — that income, the first $150 they keep, and after that, 70 per cent of it is clawed back, or they get to keep 30 per cent of it," Hartwell said.
"So there's a real disincentive for people who may have barriers, people who may have challenges, or for whom work is a big step."
Under the changes coming this fall, people on income assistance will be able to keep the first $250 of earned income each month, and they can keep 75 per cent of wages between $250 and $500, half of any earnings from $500-$750 a month, and a quarter of wages between $750 and $1,000.
All of the changes will make a big difference in people's lives this year, Hartwell said.
"If there's a single parent who's able to attach to the labour market, even part-time, and who is in receipt of child support, our modelling is showing average amounts in the hundreds of dollars per month for those families, and that's more significant than any income assistance rate increase than we've ever been able to provide," she said.
"Nova Scotia has been looking at poverty for a while. We need to act, and we need to try some things, and we need to be bold and take a risk on rolling something out that, based on all of our best research [and] experience, we believe will make an impact."
Next year, the province will amend its standard rates, which will have an even bigger impact on low-income earners.
[ad_2]