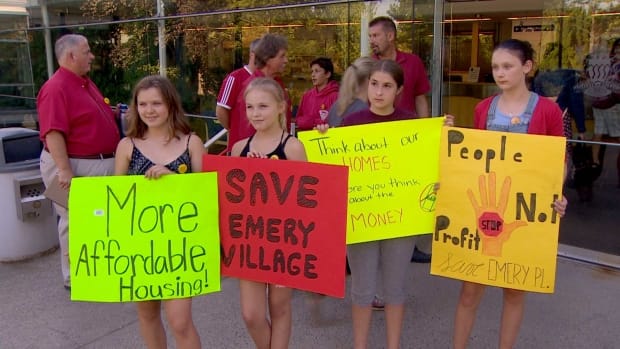 [ad_1]

A housing redevelopment in North Vancouver that will see 61 families lose their current homes was approved by North Vancouver district council on Monday night.
Dozens of residents showed up at a council meeting to voice their concerns and the chambers erupted with emotion several times.
At one point when the mayor interrupted councillor Lisa Muri as she spoke against the redevelopment, several people stood up and started chanting: "Let her speak!"
Eventually, council passed the motion to approve the Emery Village development by four votes to three.
"I feel like our planning process in the District of North Vancouver is all about a plan and it's not about people," Muri said.
Rental units to be replaced
Developer Mosaic says the vote is good news for North Vancouver residents because the new Emery Village will provide housing solutions for the community.
There are currently 61 affordable rental units at Emery Place, but Mosaic is planning to replace them with 411 homes including 84 rental units, half of which will be secured as affordable rental. The rest of the development will include townhouses and low-rise and mid-rise apartments at market prices.
Mosaic Homes wants to build more than 400 rental and strata units in North Vancouver. (District of North Vancouver)
The company has been offering the renters a compensation package that includes three months of free rent, $2,000 for moving expenses and the first right to rent units in the new building. 
But it's not clear how many will be around to move in when construction is complete.
"It's just going to be really sad, we're all going to be losing a lot of friends," said 12-year-old Lene Pindur, who grew up in the rental complex.
[ad_2]