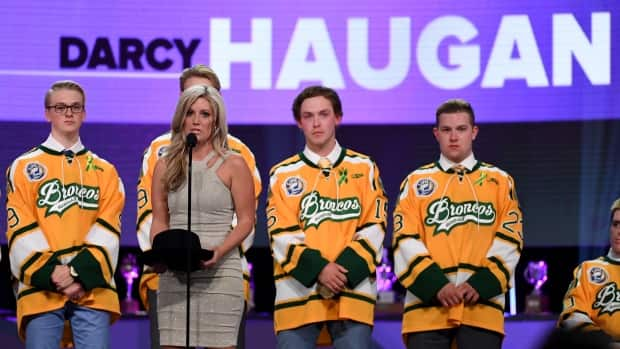 [ad_1]

Surviving members of the Humboldt Broncos were honoured at the National Hockey League's awards night in Las Vegas, accepting the inaugural Willie O'Ree Community Hero Award on behalf of their late head coach, Darcy Haugan.
Haugan was one of 16 people killed when the team's bus collided with a truck while en route to a Saskatchewan Junior Hockey League playoff game on April 6.
Haugan's widow, Christina, accepted the award and said her husband's legacy could not be found in the statistics, but in the many players he coached.
Hockey Night in Canada's Scott Oake and Elliotte Friedman introduced each player as they came up on stage to a standing ovation.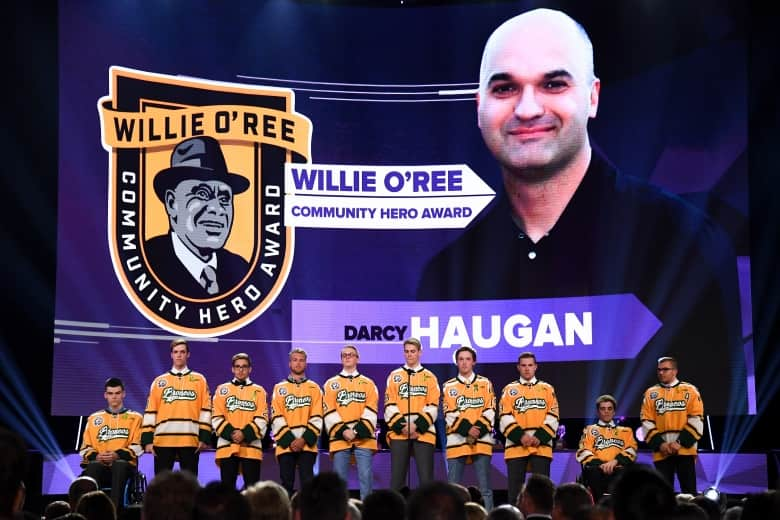 Ten of the 13 surviving players of the Humboldt Broncos were on hand at the NHL Awards in Las Vegas on Wednesday. (Ethan Miller/Getty Images)
Victims and first responders from October's mass shooting in Las Vegas that killed 58 people and injured dozens more just over a week before the Golden Knights played their first-ever regular-season home game were also honoured.
And members of the Marjory Stoneman Douglas High School hockey team, which won the Florida state title shortly after a gunman killed 17 people there on Feb. 14, also attended the event. Stoneman Douglas is located in Parkland, some 20 kilometres from the Panthers' arena.
[ad_2]