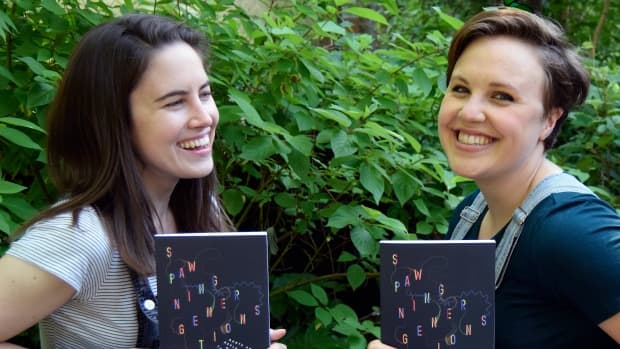 [ad_1]

A new anthology book aims to capture the highs and lows of growing up as the children of LGBTQ parents, otherwise known as "queerspawn."
The book, Spawning Generations: Rants and Reflections on Growing Up With LGBTQ+ Parents, will be released Monday evening as part of Toronto's Pride Month festivities.
The book's editors say they included stories that illustrate the unique experience of growing up in LGBTQ families.
"For a long time I was like 'I'm exactly the same,'" said co-editor Sadie Epstein-Fine on Metro Morning. "Recently we've been able to talk about our differences and what's really cool about that."
Among those differences is what the editors describe as major pressure to prove their normalcy and project the image of an ideal poster child.
As co-editor Makeda Zook puts it, she often felt the burden "to prove to onlookers that I turned out 'alright.'"
To self-identified "queerspawn," that includes the expectation to be straight and to conform to the norms of their biological sex.
Showing weakness or vulnerability, they feared, could derail decades of efforts by the LGBTQ families to gain acceptance and even legal rights like marriage and official parent status.
"Our lives were looked at under a microscope," said Epstein-Fine. "We're not allowed to talk about the ways in which our families are messy."
"The messiness would be attributed to our identities and our family's identities," Zook added.
The stories in the book, which span six decades and five countries, are part of a growing effort to resist that pressure, displaying what Zook calls "the realness of life."
Growing up queerspawn 'such an amazing thing'
While the themes of pressure and responsibility have a prominent place in the anthology, the editors also sought to capture the best parts of growing up within the LGBTQ community.
The editors say that experience provided a tremendous sense of belonging and introduced them to the activism and politics of the LGBTQ world.
"Being a part of queer culture from such a young age is such an amazing thing," Zook said.
Liam Sky, a 12-year-old Toronto boy, described his experience growing up with four moms in the anthology.
In his illustrated section, Sky submitted a chart covering the good and bad parts of growing up as a "queerspawn."
In the bad column: "people think it's weird," he wrote.
In the good: "there are more people to love me."
The book will be released Monday night at the Glad Day Bookshop in Toronto.
[ad_2]