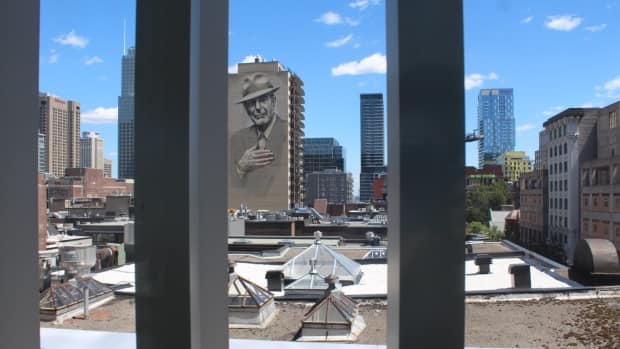 [ad_1]

By the end of the summer, 100,000 bees will be living on the roof of the Montreal Museum of Fine Arts' Peace Pavilion on Bishop Street.
The two urban hives, set up in collaboration with Alvéole, will each house a queen and about 50,000 bees.
Alvéole is a Montreal-based company that rents out beehives to people and businesses interested in making their own honey and learning more about beekeeping.
The MMFA is one of several Montreal buildings — along with Maison Radio-Canada, which houses CBC's offices — to invite a colony of bees to stay.
The urban hives have been installed by Alvéole, a Montreal-based company that rents out beehives. (Marilla Steuter-Martin/CBC)
The hives are a win/win idea, according to the museum, giving the bees a safe place to nest and pollinating plants in the surrounding area.
Organizers at the museum say that the bees will likely pollinate trees and plants in a five-kilometre radius.
The museum isn't yet sure what it will do with the honey produced on site — put it up for sale, donate it or give it away as gifts.
A queen lives in each of these boxes, along with 50,000 worker bees expected to keep busy producing honey for the colony. (Marilla Steuter-Martin/CBC)
Visitors won't be able to go out onto the roof space where the bee hives are set up, but they can watch the activity around the hives through the glass wall on the second floor of the Peace Pavilion.
From that spot, they can also get a beautiful view of the downtown skyline.
The second floor roof is off limits to the public, but can be seen through the glass that covers one wall. (Marilla Steuter-Martin/CBC)
The museum has announced its summer hours, with doors open every day June 25 to Sept. 3.
A visit to the museum will also be free on the first Sunday of every month.
The government says the free entry is meant to promote the cultural richness on display in museums across the province and make the exhibits more accessible.
Find a full list of participating Quebec museums here.
The MMFA is free to visitors during the first Sunday of every month, as part of a government-funded culture program. (Marilla Steuter-Martin/CBC)
[ad_2]