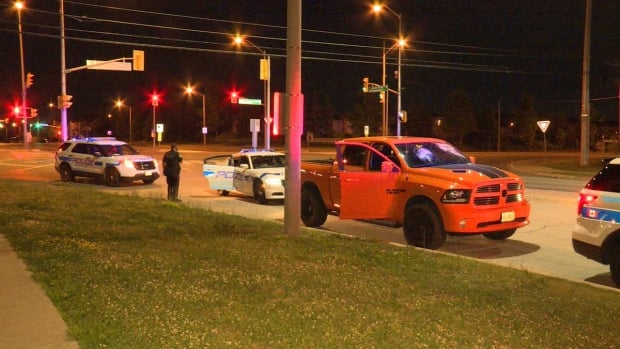 [ad_1]

A man in his 20s was rushed to hospital with head injuries after an apparent fight that began in Peel Region and ended in Halton early Wednesday morning.
Police were called for reports of a fight near Winston Churchill Boulevard and Steeles Avenue shortly after midnight.
One male was rushed to a Toronto trauma centre in critical condition, according to Peel Regional Police. A second male victim was taken to hospital with minor injuries, while a third male victim was treated for minor injuries at the scene, police said.
While the incident began in Peel, Halton Regional Police have taken over the investigation.
Winston Churchill is closed in both directions between 5 Sideroad and Steeles for the police investigation.
<a href="https://twitter.com/hashtag/trafficalert?src=hash&amp;ref_src=twsrc%5Etfw">#trafficalert</a> North and Southbound Winston Churchill Blvd. is completely closed between 5 Sideroad (Embleton Rd) and Steeles Ave for a police investigation. Pls avoid the area. <a href="https://twitter.com/HRPSMiltHH?ref_src=twsrc%5Etfw">@HRPSMiltHH</a> ^ck

&mdash;@HaltonPolice
[ad_2]