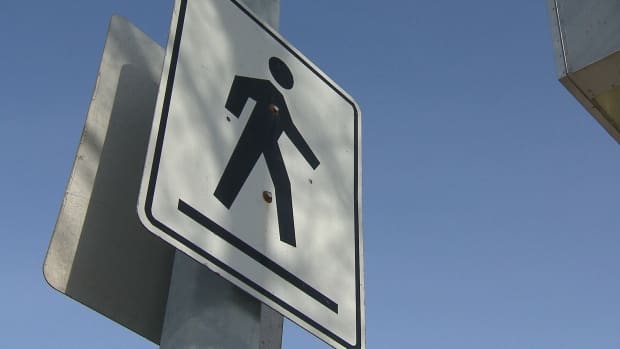 [ad_1]

A new report is recommending the city prune trees and install additional flashing lights at a Winnipeg crosswalk where an eight-year-old boy was struck by a truck and killed in February.
City traffic experts began looking at ways to improve pedestrian visibility and safety following the fatal Feb. 13 crash at Varennes Avenue and St. Anne's Road.
The review found at least two other people had died and one person was injured in pedestrian-vehicle collisions at that same intersection between January 1980 and December 2016.
In addition to pruning two elm trees to improve the visibility of the existing overhead crosswalk signs, the report suggests installing low-mounted flashers or rapid rectangular flashing beacons at the crosswalk "to enhance pedestrian visibility to motorists."
The cost to install low-mounted flashers is pegged at $500, while rapid rectangular flashing beacons are estimated at $40,000, the report said.
Traffic experts also recommend the crosswalk be considered as a trial location for low-flashing amber beacons when a city study begins this fall.
"I'm largely supportive of the report to get some lower eye-level flashers in there," said St. Vital Coun. Brian Mayes. "We've got to do something and this is taking some action."
Mayes said he has never received so many calls and emails from residents in his ward concerned about the intersection as he did after the death of Surafiel Musse Tesfamariam, 8, in February.
The Grade 3 student was hit and killed by a pickup truck while crossing St. Anne's Road with his mother on his way to school.
"A lot of people wrote in saying it's got to be a traffic light. I don't think it's the right configuration," Mayes said.
"You'd have to be tearing out big chunks of the median because of the way the streets align. So I think this is a reasonable proposal."
Traffic light, speed changes not recommended 
The review looked at the possibility of installing a traffic light but found the volume of vehicles at the intersection did not come close to warranting one.
Replacing the existing yellow pedestrian crosswalk lights with flashing red lights was another option experts studied. 
However, the report concluded there are "no pedestrian crossing control devices, approved by Transportation Association of Canada (TAC) in Canada that use a flashing red beacon."
Traffic experts also looked at the potential to lower speed limits on St. Anne's Road between Bishop Grandin Boulevard and St Mary's Road, where the posted limit is 60 km/h.
An evaluation based on TAC guidelines found the speed limit should be reduced to 50 km/h. However, analysts determined that was not consistent with the speed at or below which 85 per cent of motorists drive on the street, the report said.
"It should be noted that the TAC guidelines represent one factor in evaluating speed limits," the report added, and therefore no changes to speed limit are recommended.
The report's recommendations will be voted on by city council's standing policy committee on infrastructure and public works on June 26.
If approved, Mayes expects the new crosswalk lights to be installed by the fall.
The February crash is still under investigation by the Winnipeg Police Service. To date, no charges have been laid against the driver of the truck.
[ad_2]