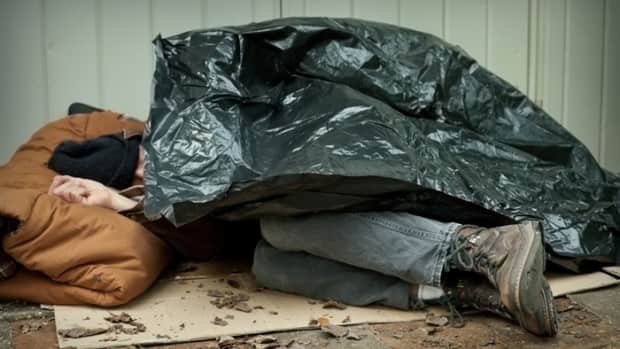 [ad_1]

Homelessness has nearly doubled in Kamloops, B.C., since 2016, according to the latest count, and frontline workers say the actual number is much higher.  
The recent Point in Time survey found at least 190 people in Kamloops are homeless, compared to 100 people two years ago.
Christa Mullaly, the executive director for the Canadian Mental Health Association in Kamloops, says the count is merely a snapshot of the actual situation.
"Based on the number of folks that we see at shelter, as well as what we saw at Stewart Wood [emergency shelter] over the winter and the number of individuals we turn away from the shelter daily, we're looking at probably closer to between 400 and 500 people," said Mullaly.
The count was conducted over a 24-hour period in March, surveying both those staying at shelters and those on the street.
It was partially funded by the federal government for the national Homelessness Partnering Strategy.
A youth-specific homelessness count was conducted in Kamloops in May, but the results have yet to be published. 
Provincewide count
The provincial government also invested $550,00 earlier this year to count the number of homeless in 12 cities around the province in March and April.
The results of that study are expected to be released as part of the Homelessness Action Plan in the summer.
Mullaly is not surprised to see the number of people without homes on the rise in Kamloops.
"People are having an incredibly difficult time finding housing. People are living in poverty. People are living with unresolved mental illness and active addiction," she told Shelley Joyce, the host of CBC's Daybreak Kamloops.
"All of those factors combined make it extremely difficult for people to find stable housing."
Indigenous focus
A similar study of Metro Vancouver late last year also found that homelessness had spiked by 30 per cent since the last count in 2014.
Natika Bock, the housing manager at Lii Michif Otipemisiwak Family and Community Services, was part of the Kamloops housing survey.
She found that about 34 per cent of homeless people in the city were Indigenous and had aged out of state care.
"If there are 400 or 500 homeless people, and we we were only able to count 190 over that 24-hour period, I'm thinking that it could be higher than that," she said.
With files from Daybreak Kamloops.
[ad_2]