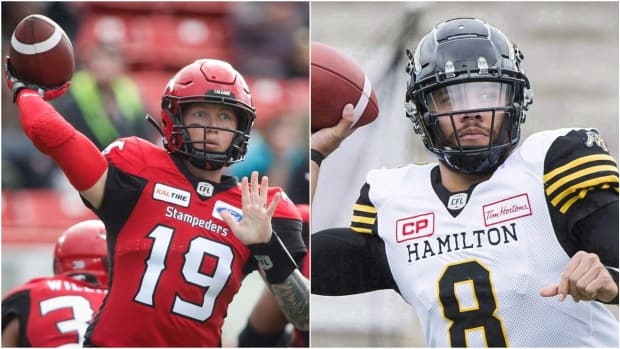 [ad_1]

Johnny Manziel's possible debut injects hype into Saturday's CFL season-opener for the Hamilton Tiger-Cats and Calgary Stampeders.
But while the prospect of a former Heisman Trophy winner slinging the ball may put extra bums in McMahon Stadium's seats, Ticats starter Jeremiah Masoli was one of the top-performing quarterbacks in the CFL the second half of last season.
After an 0-8 start in 2017 that included a 60-1 drubbing at McMahon, June Jones took over as head coach after Kent Austin stepped down.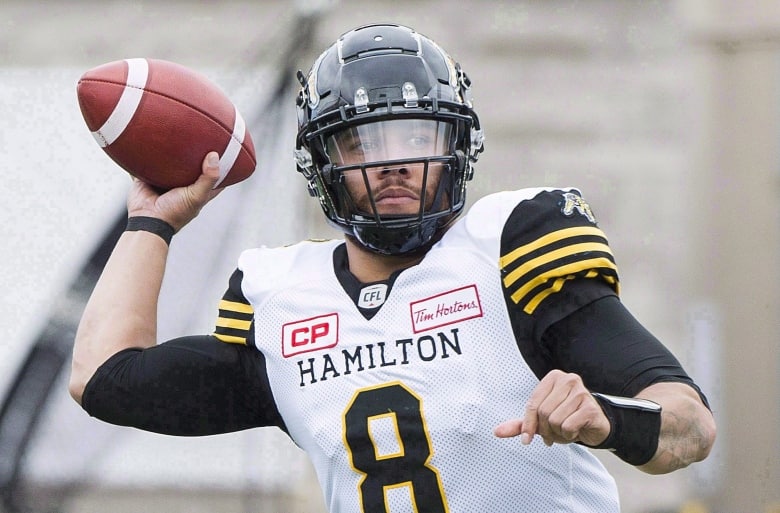 Hamilton Tiger-Cats quarterback Jeremiah Masoli throws a pass during first half CFL football action against the Montreal Alouettes, in Montreal on Sunday, October 22, 2017. It has taken five years, but Jeremiah Masoli is finally a starting CFL quarterback. (Graham Hughes/The Canadian Press)
Masoli led all CFL quarterbacks in passing yards after Sept. 1 with 3,032 and was 6-4 in starts down the stretch.
He and other Ticats veterans haven't quite erased the memory of last season's debacle in Calgary.
"Obviously we're all human and we remember that from last year, but it's a new team, new year," Masoli said Friday upon arrival in Calgary.
"Not really focused on that. That doesn't have too much to do with the game tomorrow."
Stampeder head coach Dave Dickenson is happy if Manziel's presence boosts a home crowd, but was more preoccupied with the quarterback Jones has confidence in: the 29-year-old Masoli.
"He's streaky," Dickenson said. "He's definitely a guy that when he's hot … I think he has the CFL record for most completions in a row.
"We've got to make it a lot tougher on him. We can't let him just sit back there. We've got to make sure he's running around and feeling us."
Manziel, a first-round draft pick of the Cleveland Browns in 2014 after starring at Texas A&M, completed 21 of 32 passes for 168 yards and a touchdown for the Ticats in a pair of pre-season games.
No QB plans from Jones Friday
His public persona as a talented athlete whose off-field problems sabotaged his pro football career, and is now attempting a comeback in Canada, makes for a compelling storyline.
Jones did not speak to media Friday and thus provided no clues as to his quarterbacking plans for Saturday.
"We'll see how things go," Manziel said. "Any backup or anybody on our depth chart is one play, two plays away from getting in the game. That's something I've learned over the course of the years and take very seriously.
"We're all behind Jeremiah starting tomorrow. More than anything, I want a win for this team. It's more than me. It's more than just one individual. It's a team effort and it takes every body we have on this roster to go out and win games."
Calgary Stampeders' quarterback Bo Levi Mitchell throws the ball during CFL pre-season football action against the B.C. Lions in Calgary, Friday, June 1, 2018. (Jeff McIntosh/The Canadian Press)
Stampeder quarterback Bo Levi Mitchell doesn't begrudge Manziel the attention, but chafes at the idea that Manziel or a Tim Tebow could dominate the moment they step on a Canadian football field.
The CFL is a lot tougher than that, he said.
"The best thing for the league is for those guys to struggle because it does prove what we all say, that this league is full of great players and amazing athletes," Mitchell explained. "You've got plenty of guys here that go to the NFL.
"Johnny has earned his own following … first-round draft pick and everything he did in college. He has earned everything he has right now. That's not to be questioned.
"My thing is you have to go out here and earn your respect from the guys in this league, because everybody is out there to prove you're not who you are."
[ad_2]