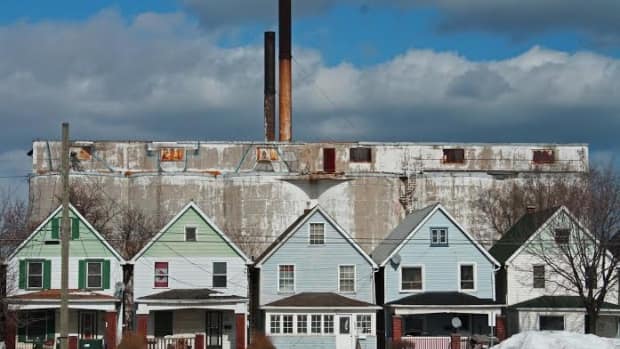 [ad_1]

Hamilton has half as many brownfield sites as it did in 2008, but it still has the equivalent of 160 football fields still sitting vacant.
A new city report shows Hamilton had 91 brownfield sites in 2008, and only 40 as of this year. 
That's a huge reduction — from 152 hectares down to 79.5. And brownfield land in the bayfront industrial area went to 20 hectares down to 13.2.
That means about half of the brownfield land the city wanted developed has been. But it also means about 80 hectares is still vacant, says the report, which city staff showed council this month.
Lloyd Ferguson, Ancaster councillor, called for the report. He wants the city to offer that land to recreational marijuana growers so they won't build on green space.
"There's been a significant improvement in the reduction of the brownfields in our community," Ferguson said.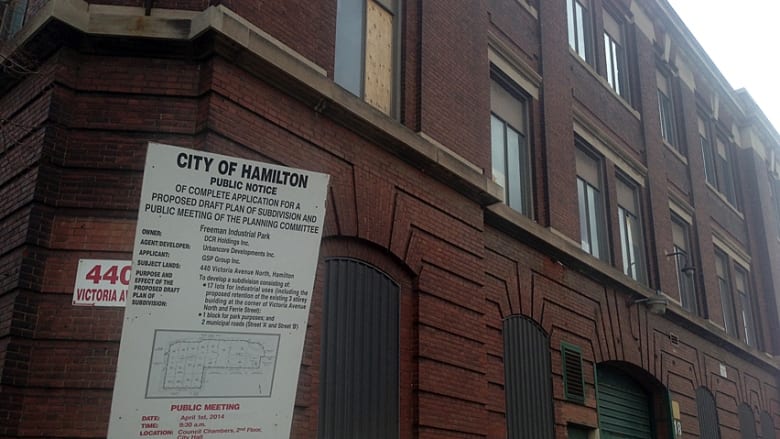 The old Otis Elevator building will be offices as part of the new Freeman Industrial Park. (Samantha Craggs/CBC)
But "80 hectares is a lot," and those hectares have adequate water and power to accommodate marijuana growers.
The reduction in brownfield land is an indicator in a city with a history of heavy industry — and a new history of rising property values.
Since 2001, the city has offered Environmental Remediation and Site Enhancement Community Improvement Plan (ERASE) grants. It expanded that program in April 2005.
That's made a difference, the report says.
"Both of these milestones have contributed to Hamilton's reputation as being a municipal leader in terms of brownfield redevelopment in Canada," it said.
About 145 property owners have gotten grants for environmental studies, it says. And city council has approved redevelopment grants for 47 projects.
That's increased the city's assessment base — the pool of properties from which the city draws tax dollars — by $129,029,379.
Matthew Green, Ward 3 councillor in the central lower city, said the reduction is good news for Hamilton. He also agrees with Ferguson that the city should be pushing recreational marijuana growers to locate on the remaining 80 hectares.
"We still have a long way to go, and as fate would have it, it's actually one of the very few things I've come across where I agree with Coun. Ferguson."
Two noteworthy recent brownfield remediation projects have included the Freeman Industrial Park, located at the site of former Otis Elevator and Studebaker plants, and the former Consumers Glass property.
On the latter, the city plans to build a sports field. The city is still doing environmental studies on the site, Green said.
"When you take on a property that has 100 years of industrial legacy," he said, "you take on everything that comes with it."
[ad_2]