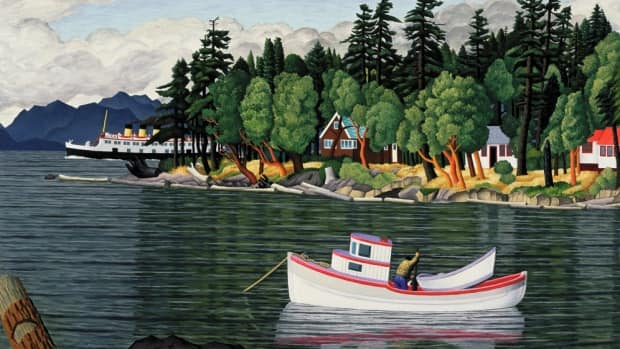 [ad_1]

Robert Amos recalls the day 43 years ago when, as an aspiring 25-year-old writer and painter, he looked up at a large painting by E.J. Hughes in the University of Victoria's special collections library,  
"I knew right away I found somebody who was going to influence me," said Amos, who had just moved to Vancouver Island from Toronto.
Fast forward to the present day and the release of Amos's new novel, E.J. Hughes Paints Vancouver Island, and his admiration for the B.C.-born artist is just as strong.
"His real difference is his incredible powers of concentration," Hughes told On The Island host Gregor Craigie.
"He gives every distant hillside and every blade of grass in the foreground equal and loving attention, and it shows. The paintings glow with a power that people do find irresistible."
E.J. Hughes, right, died in 2007. (CBC)
Lunch date
Hughes, who died in 2007, was infamous as a fiercely private artist. The painter, whose works would fetch north of $1 million, would shun interviews and never attended a single one of his openings.
Yet, Amos was able to pierce the shield.
As the art writer for Victoria's Times Colonist newspaper, Amos wrote many pieces on Hughes.
One day in 1993, Amos received a call from Hughes' longtime manager — or as Amos described her, Hughes' interface to the world — Pat Salmon.
"Mr. Hughes is coming to Victoria for the annual servicing for his car and he'd like you and your wife to be his guests at lunch," Amos remembered Salmon saying.
Coastal Boats Near Sidney, B.C., by E.J. Hughes, was sold at an auction in Vancouver for $1,140,750. (Heffel Fine Art)
The dinner was a hit and soon Amos found himself invited on numerous occasions to visit the reclusive artist's home in Duncan, B.C.
Since 1977, Salmon had been preparing for a biography of the painter she managed.
Hughes was a perfectionist, known to drive to beautiful locations to spend two days drawing one small picture and another day simply writing notes, which he would then use as resources for the next 50 years.
The E.J. Hughes canvas Above Revelstoke, B.C.
But in 2012, drained by the effects of Parkinson's disease, Salmon realized the tribute to her friend required more energy than she could muster.  
"She needed someone to take the amazing archive she had created and to turn it into a book, and she recognized me as the person," said Amos.
E.J. Hughes painted Englewood in 1951.
Biography series
Amos's recently released book is just the first in a line of biographies that chronicle Hughes' 70-year career.
"My goal is next year to bring out E.J. Hughes Paints British Columbia. After that, maybe we'll get to E.J. Hughes, The Warriors," said Amos.
"And if I can do all that, then I'll sit down and write the full biography of this unique and interesting man."
Listen to the full interview with Robert Amos here:
Steamer in Grenville Channel, B.C., painted in 1952. (Painting by E.J. Hughes)
Old Baldy Mountain, Shawnigan Lake, painted in 1961. (Painting by E.J. Hughes)
Harbour scene, Nanaimo, B.C., painted in 1970. (Painting by E.J. Hughes)
[ad_2]