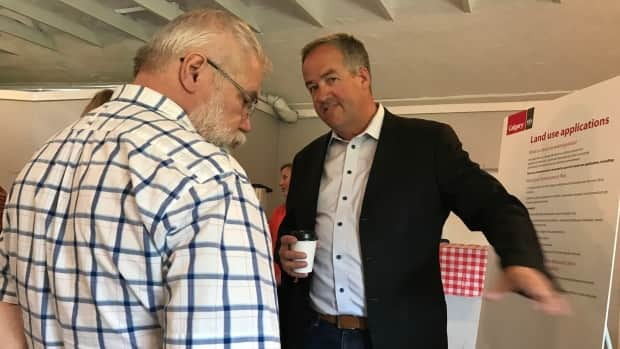 [ad_1]

Some residents and business owners are eager to see the city green-light a new development along 10th Avenue S.W. in Calgary.
They were at an open house in Sunalta on Tuesday night to hear about the proposed mixed-use project.
The plan calls for a building with retail shops on the bottom, a parkade in the middle and one or two condo towers above that.
Former Calgary mayor Dave Bronconnier, who is spearheading the project, says it's not without its challenges, given that the proposed site is next to the Canadian Pacific Railway line and the LRT.
"The height … the biggest issue is the level of above-grade parking and removing the height restriction," he said.
For the project to be viable, Bronconnier says they need to convince the city to alter zoning restrictions in the area.
"The vision is to meet with what the city has looked for aspirationally, which is to integrate a mixed-use development on, again, another very difficult site adjacent to the CPR rail tracks, the LRT and some set-back issues," he said.
"People are looking for this project to be part of the catalyst for the redevelopment area along the north side of 10th Avenue, which, as we know, 10th Avenue between 14th Street and Crowchild Trail, there is not one residential development at all."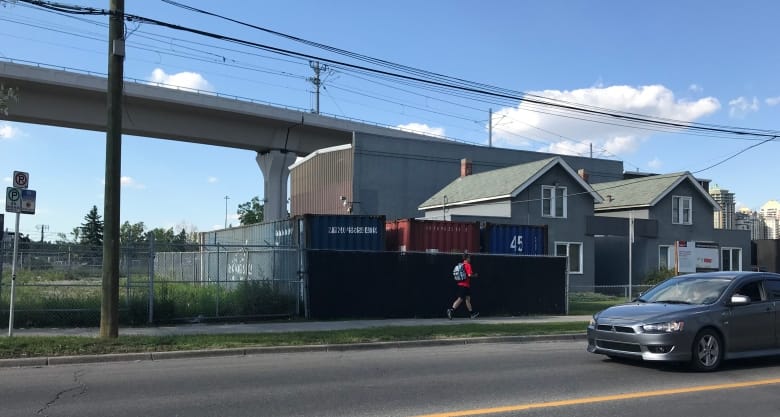 A proposed mixed-use development on 10th Avenue S.W. in Sunalta would include condos, retail and parking. (Colleen Underwood/CBC)
Business owner Steve Casey says that when the West LRT line was approved, the city said development would follow. But so far, it hasn't. And he says that has been frustrating because he wants to sell off his properties along 10th Avenue.
"This was my dream, call it 15 years ago, so to see it come to fruition, that's great," he said.
"But there's not enough demand. We need to get one going and then move to the next, and so on and so forth."
Grant Larson lives in Sunalta and says he just wants to make sure that any new development adds value to the community.
"I think the development — of course it's going to happen — but let's make sure we have that space, those open restaurants, those cafes," he said.
"Let's change the neighbourhood of 10th Avenue from a commuting road to a High Street, which was a plan a few years ago.… I'd love to see that come back. And if this can support that, yes."
If the project gets approved in the coming months, it would still be about two years away from construction.
---
Read more articles by CBC Calgary and like us on Facebook for updates
[ad_2]