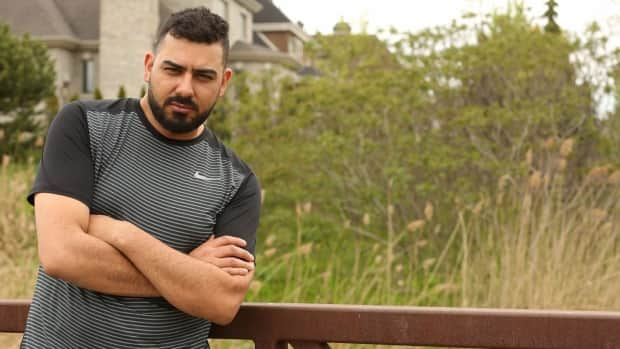 [ad_1]

A man whose house was heavily damaged during the 2017 spring floods says his government-authorized evaluator used his position to try to get an acquaintance and business partner the contract to repair his Île-Bizard home.
Tauseef Bhatti says last August, shortly after Tony Bissonnette prepared Bhatti's flood damage report, Bissonnette introduced him to contractor Georges Samman, saying that with their connections at the province's Ministry of Public Security (MSP), his compensation claim would go more smoothly.
Samman and Bissonnette co-own an extermination business called GT Extermination, registered on Oct. 2, 2017 as 9367-0123 Quebec Inc.
Bhatti says when the three men met at Bhatti's flood-damaged home last summer, Samman said he and Bissonnette could get authorization to do the repairs.
According to the province's aid guidelines, a house in a high-risk flood zone can't be repaired or rebuilt if the repairs would cost more than 50 per cent of the house's worth. But Bhatti says Samman told him he could negotiate an exception.
Île-Bizard homeowner Tauseef Bhatti says Tony Bissonnette and Georges Samman met with him to try to persuade him to sign a contract with Samman to fix his flood-damaged home. (Simon Nakonechny/CBC)
"We know how the system works, and we know people inside," Bhatti said Samman told him.
Bhatti has provided CBC News with recordings of phone conversations he had with Samman and Bissonnette that corroborate key details of his story.
I don't have the authorization, I'm doing this behind the blinds, but I can't do that for longer.– Contractor Georges Samman, speaking to homeowner Tauseef Bhatti
Bhatti hesitated to sign a document Samman gave him which would have allowed the contractor to negotiate directly with the MSP on Bhatti's behalf.
Over the next several weeks, in phone conversations between Bhatti and Samman, Samman talked up his ability to access information in Bhatti's file before Bhatti had it:
Samman: The report of the evaluation, it's already done…. I have access to the file already.
In that conversation, Samman also tells Bhatti he'll meet Bissonnette to find out more:
Samman: Tony did the evaluation.  He did already the recommendation.
Bhatti: OK?
Samman: Yeah, I can have more information for you in a couple of hours because I'm meeting with Mr. Tony tonight.
Tauseef Bhatti provided CBC News with recordings of his calls with Tony Bissonnette and Georges Samman. (Simon Nakonechny/CBC)
Samman repeatedly pushed Bhatti to sign the mandate, which he said was critical because, technically, he was not supposed to have access to Bhatti's file without it:
Samman: Right now, I don't have the authorization, I'm doing this behind the blinds. But I can't do that for longer.
Contradictory denials
CBC News has not been able to determine whether Samman did, in fact, have access to  Bhatti's file at the MSP.
In an expletive-laced interview with CBC News, Samman denied that either he or Bissonnette had access to inside information at the MSP.
He acknowledged Bissonnette gave his name to flood victims whose houses he inspected but took issue with the word "recommended."
"He kind of referred [me]," said Samman, "because we know this kind of work."
Samman said he had "a lot" of mandates for flood-damaged homes.
When asked about a follow-up meeting he and Bissonnette had with Bhatti at the Holiday Inn last October to try to persuade Bhatti to sign a contract, Samman said that meeting was at Bhatti's behest.
Tauseef Bhatti says he met Georges Samman and Tony Bissonnette at the Pointe-Claire Holiday Inn last October where they tried to persuade him to sign a renovation contract with Samman. In recordings provided by Bhatti, Georges Samman tells him, 'We are downstairs where the bar is.' Bissonnette denies he was at that meeting. (Georges Samman/Facebook)
"He asked to see Tony Bissonnette for some other reasons," he said. "I have nothing to do with it. Each one of us was having his turn with the guy."
Bissonnette, however, denied being at the October meeting at all — and denied referring Samman to Bhatti or any other flood victims whose houses he evaluated.
"Absolutely not," Bissonnette said. "I suggested to Mr. Tauseef to take a contractor in the area there, so not more than that."
But in a recording Bissonnette tells Bhatti his "guy" will be available the following day to meet him, and that Bissonnette would also be present at that meeting.
When told about the recording, Bissonnette said there were some contractors working "on the street" and said he simply suggested Bhatti hire a contractor "in the area."
Evaluators must avoid conflicts of interest
In an emailed statement to CBC News, the Public Security Ministry said it does not hire inspectors directly. The job is subcontracted out to private companies.
It says while evaluators may contact flood victims after their initial evaluation to obtain additional information in preparing their report, they may not recommend or introduce a contractor to the flood victim.
"The evaluator must avoid conflicts of interest," the statement says.
The MSP also says evaluators are not allowed to disclose any information about a victim's file without prior authorization of the ministry.
Bissonnette was hired by Consultant Jacques Bouchard Inc., a firm awarded a $3.5-million contract to do flood-damage inspections in several regions of the province.
Samman told CBC News he had also been hired by Bouchard to do inspections after the 2017 floods but stopped so he could do contracting work instead.
CBC News tried multiple times to reach Consultant Jacques Bouchard Inc., but a voicemail message said the mailbox was full.
'He still has $15K of my money'
Bissonnette was also mandated to inspect the home of Michel Vézina and his wife Louise Major in Deux-Montagnes after the flood inundated their basement, ruining the house's foundation.
Not long after Bissonnette did the inspection, Major said, Samman showed up at the couple's front door.
"He said, 'I'm recommended by Tony.'"
"I said it looks like collusion," Major recalls telling Samman, but he assured her it was all above-board.
Michel Vézina and Louise Major's Deux-Montagnes home still may need to be raised and further repaired, but they are still waiting for estimates. (Simon Nakonechny/CBC)
Eventually, Major and Vézina signed with Samman, who was working for a company called Phénix Experts at that time. The company did an $8,000 job to clean up and insulate the couple's basement.
But then Samman told them he'd no longer be working with Phénix and was instead associated with a new company called Renoka Montreal Inc., of which Samman is listed as a shareholder.
Vézina and his wife advanced Renoka $15,000 of their compensation money as a deposit on future work, he said.
Over a year after the flooding, Vézina and Major's home in Deux-Montagnes has not been repaired.
Vézina says Samman has sent two experts to look into the possibility of raising his home, but neither was interested in the contract.
Samman contacted the couple after they spoke to CBC News and said another house-raising expert would be visiting this week.
Vézina also says Samman warned him not to make trouble where there was none.
"We're in a bit of a delicate situation because we're still doing business with him," Vézina said. "He still has $15,000 of my money."
Tauseef Bhatti believes his Île-Bizard home can be fixed for less than the estimate provided by the government-authorized inspector, Tony Bissonnette. (Simon Nakonechny/CBC)
Bhatti wants new inspection
Eventually, Bhatti did sign the mandate with Samman, but his wife, who co-owns the house, wouldn't sign, so they never did business with him.
Bissonnette's evaluation determined it will cost $181,238.54 to fix Bhatti's home. Because that amount exceeds 50 per cent of the cost to rebuild from scratch, the MSP has ruled the house will have to be demolished.
The MSP has sent another expert to reassess the damage to his foundation, and based on that, the government is standing by its decision that his house must be torn down.
However, Bhatti wants a new government evaluation, top to bottom. He believes the work can be done for less than Bissonnette estimated because he's found another contractor willing to do the work for $115,917.
"I want … a person without any conflict of interest to come there and do the damage assessment and give us right numbers," he said. "It might be above 50 per cent. It might be under 50 per cent. At that point I [will] know it is fair."
---
Do you have a story you want the CBC Montreal team to investigate? Contact us via our confidential tipline: 514-597-5155, on email: [email protected], on Facebook or on Twitter
[ad_2]