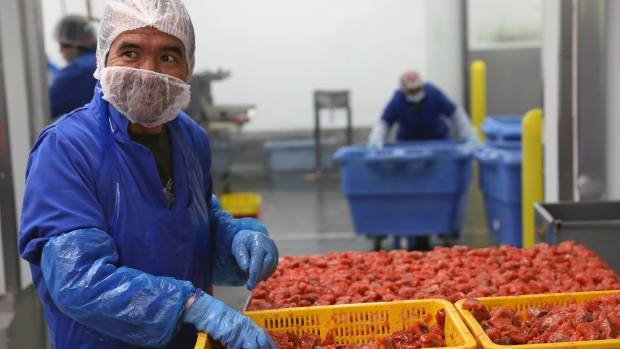 [ad_1]

Twenty contentious salmon farms will remain in the troubled waters of the Broughton Archipelago for at least another two months.
While some may be expecting the provincial government to either expel the farms or grant them permission to stay, when their tenures expire on Wednesday, the company that owns them said it's likely they'll continue operating on a month-to-month basis.
Marine Harvest Canada spokesman Jeremy Dunn said the Land Act requires the government to give the company 60 days notice if it plans to evict the farms, which it has not yet done.
"It's quite common for tenures that require a lot of consultation — and these do because of the multiple First Nations claims — to go into the month-to-month provision in the Land Act after the term expires. Whether it's these tenures or shellfish tenures or docks, if there's a lot of consultation required, it's common that they go past the term," Dunn said.
That's what happened the last time these same tenures expired, he said. One by one, the tenures expired over the course of about five years and then the province renewed them all together.
"This is why we have so many up for renewal at the same time," Dunn said.
The B.C. Salmon Farmers Association says the province's aquaculture industry generates $1.5 billion a year. (B.C. Salmon Farmers Association)
Open-net farming 'ruining' B.C. tourism, operators say
A group of 75 tourism operators called on the government Monday to let existing permits expire and to enact a coast-wide moratorium on new fish farms. 
In an open letter, they asked for provincial and federal funding for a transition to a land-based closed containment system.
"Open net salmon farming is ruining B.C.'s international reputation as a wilderness tourism destination," said K'odi Nelson, a guide for Sea Wolf Adventures. 
"Without the wild salmon, we won't have no more grizzly bears for our customers to go and view. We won't have anymore orcas … eagles, seals and sea lions." 
The B.C. Wilderness Tourism Association says the industry generates $1.5 billion in annual expenditures and supports 26,000 full-time jobs. 
"These businesses need to innovate. Certainly our industry has innovated," said association president Kevin Smith. 
"They've got a very old technology that they've imported from other parts of the world that's not working." 
Opponents to open-net pen fish farms say they pose a threat to already-threatened wild salmon stocks by spreading viruses, diseases and sea lice.
Many are Indigenous leaders who say the farms are operating in their traditional territories without the nations' permission.
But Marine Harvest Canada says the idea of moving millions of Atlantic salmon to large tanks on land is not realistic. 
Locations of fish farms in B.C. The ones in orange are up for renewal. (CBC)
Government will soon comment on tenures
Last week, Premier John Horgan announced the formation of a 14-member advisory council to develop plans to restore and protect B.C.'s wild salmon stocks.
Horgan said the government will soon have further comment on the future of the farm tenures that are due to expire Wednesday.
Last fall, Horgan travelled with Agriculture Minister Lana Popham and other cabinet ministers to meet with Indigenous leaders in Alert Bay to discuss the issue.
Since then, Horgan said they have been engaged in negotiations and discussions on a nation-to-nation basis.
"Those discussions continue and Lana will have more to say on that in the days ahead," he said.
---
With files from The Canadian Press
[ad_2]