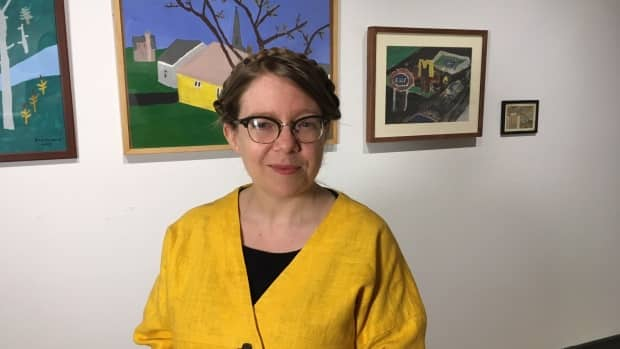 [ad_1]

Maryse Arseneault grew up hanging out at the kitchen table painting with her father — famed Acadian artist Guy Arsenault.
She says it was the art they made in those shared moments that helped open the door to communication as father and child.
"He was a diagnosed schizophrenic and so didn't speak very much at certain times in my life," she said. "I think we communicated through painting and drawing."
Now, Arseneault is sharing some of that art with the general public in a new exhibit at Galerie d'art Louise-et-Reuben-Cohen at the University of Moncton.
She is curating "Saynètes dans la picture window", which roughly translates to Sketches Through a Picture Window.  It will be accompanied by the publication of an artist book supported by artsnb.
Arseneault said her father was best known for his poetry.
Painting close to home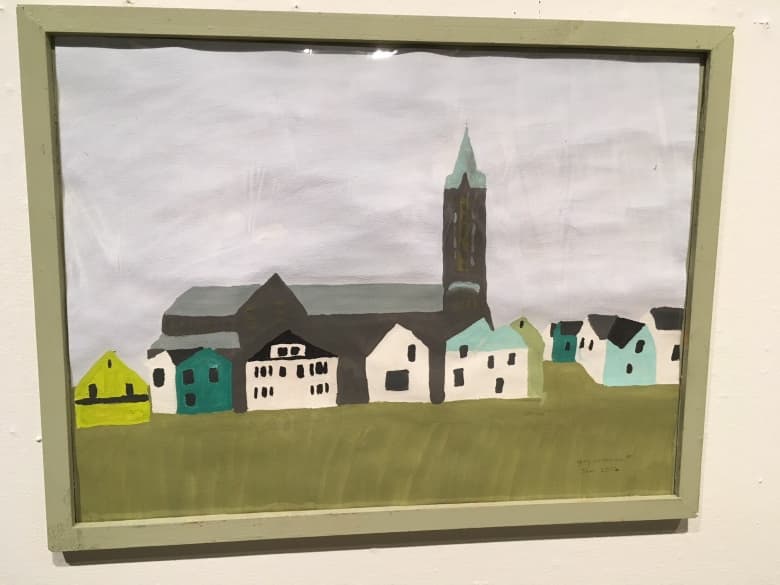 The Parkton neighbourhood in Moncton, where Arsenault still lives, features prominently in his work. (Kate Letterick/CBC News )
He published Acadie Rock in 1973, which Arseneault says helped establish his name in the community and in Acadian culture, which was thriving at the time.
But Arseneault said not everyone was aware that her father was so prolific in painting and drawing.
The Parkton neighbourhood of Moncton, where the 64-year-old Arsenault still lives, is featured prominently in his work.
He painted in a style known as gouache.
Arseneault and her father at a poetry reading on the University of Moncton campus. (Maryse Arseneault/Facebook)
"Gouache is a type of paint that's water based and not very expensive so that's one of the reasons my dad used it," said Arseneault. "It has a chalk-like quality that's very particular to my Dad's paintings." 
His most productive period was from the 1970s until 2010, and has a specific look.
"So we would maybe qualify it as naive painting or outsider art in English because of the simplicity," said Arseneault.
"The proportions are not followed and the fact that he's not doing it with an academic background but he also has such an urban flair to it that it becomes contemporary as well." 
Arseneault says her father likes to depict everyday scenes, like this painting of a barber shop. (Kate Letterick/CBC News)
Arseneault said houses and churches have been her father's favourite subjects, but he also loved to depict situations that he found funny in everyday life.
Her father came to see the exhibit and was pleased with the results.
"He's definitely emotional at seeing all this work in this space because you can see it from further away in a large gallery like Ruben Cohen and I think he's very happy." she said.
Framing an era
Arseneault said her father still paints, but in a more "leisurely manner, less production vibe."
She hopes people take the time to see the exhibit, which runs until Sept. 25, saying it's a part of Moncton identity. 
The art exhibit is at the Galerie d'art Louise-et-Reuben-Cohen at the University of Moncton and runs until September. (Kate Letterick/CBC News)
"The collection that I've put together frames a certain era and a certain area of New Brunswick that I think is really special," said Arseneault.
"The themes are a bit about the mental illness he had to suffer, the schizophrenia and how art was able to help him through and it would ground him and it made him happy to paint."
[ad_2]