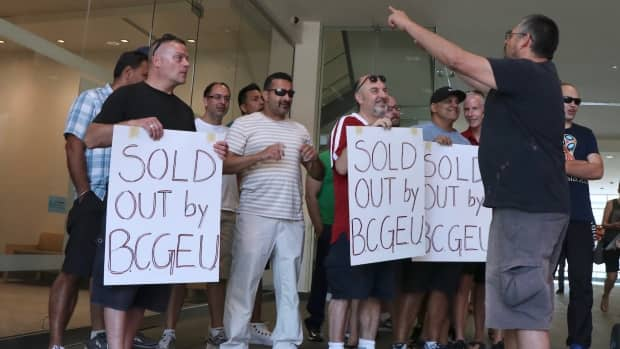 [ad_1]

The sight of union members chanting and holding protest signs is not unusual, but it's not every day that you see a group of demonstrators protesting their own union.
That's exactly what happened in Vancouver on Tuesday, as a group of B.C. Government and Service Employees' Union members who work as youth correctional officers took their protest to the union's Lower Mainland office.
The group is upset with a tentative agreement that the BCGEU has struck with the government.
They could be heard chanting: "Sold out, by who? The BCGEU;" "No to ratification;" and "Representation: Your obligation."
According to BCGEU president Stephanie Smith, the agreement includes an across-the-board wage increase of two per cent each year for three years, but in some cases there will be raises above and beyond that, referred to as "temporary market adjustments."
'Irresponsible' representation
The protesters claim that sheriffs and adult correctional officers stand to get the additional raise while they won't, if the deal is ratified. 
"We have absolutely no issue with our employer. Our issue is with the union that is supposed to represent us," said Armando Rodriguez, a shop steward, outside the BCGEU office.
"We feel that representation to this point has been irresponsible and we want some clarity around that."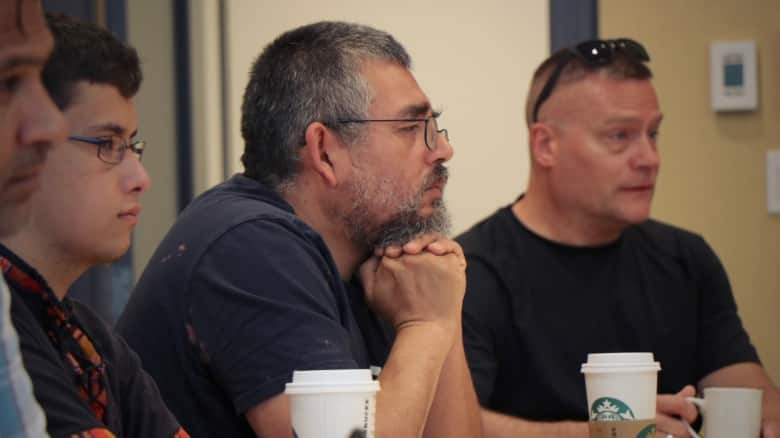 Armando Rodriguez, centre, a shop steward who works in youth corrections, listens to a BCGEU representative in an unscheduled meeting on Tuesday. (Rafferty Baker/CBC)
Youth correctional officers are in the same bargaining component and have the same union classification as adult correctional officers, according to Rodriguez. 
But they technically have different employers — the adult correctional officers work for the Ministry of Justice, while the youth correctional officers work for the Ministry of Children and Family Development.
'We didn't get everything that we asked for'
Smith said she has plans to meet with the upset BCGEU members, but hasn't had time in her schedule.
"They are showing that they're organized in terms of wanting to voice their displeasure. I have absolutely no problem with that. I'm always open to hearing from members," she said, adding that she hopes to meet with youth corrections members next week.
"As hard as we fought for all of those wage increases and [salary] grid increases, we didn't get everything that we asked for and that's part of he bargaining process," said Smith.
"We still feel that this is a good agreement for our 27,000 members within the direct government service. The agreement now belongs to them and they'll ratify as they see fit," she said.
Rodriguez said he was grateful his group was welcomed into the office for a meeting with a representative on Tuesday, but there were no apparent gains after the meeting.
Upset members of the BCGEU were granted an unscheduled meeting with a union representative to discuss what they call an unfair tentative agreement. (Rafferty Baker/CBC)
"Nothing has changed. So our intentions are to carry on with action, until the time has run out," he said.
"And even then, if this hasn't been addressed to our satisfaction, we'll have to re-evaluate and see what actions — what further actions — we can take."
Neither Smith nor the B.C. government were willing to discuss the specifics of the temporary market adjustment in question, saying it was pending the ratification vote.
That vote could happen some time in July, but it has yet to be scheduled. The current agreement doesn't expire until next year.
---
Follow Rafferty Baker on Twitter: @raffertybaker
[ad_2]